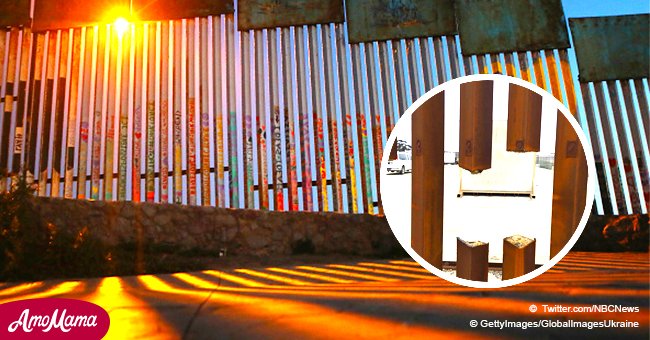 A steel border wall prototype was tested by military and Border Patrol personnel
Border wall prototypes were shown to be unsafe in Homeland Security tests.
The construction of a border wall between the United States and Mexico has become the #1 priority of the Trump administration.
In order to build it, President Donald Trump has requested $5,7 billion from Congress, but it appears the design he has chosen may have flaws.
"It's very, very hard — the wall that we are doing is very, very hard to penetrate."
President Donald Trump
TESTING OF PROPOSED WALL REVEALS FLAW
The type of wall President Donald Trump has decided on is a steel slat design, but tests by the Department of Homeland Security proved it could be breached.
The test was carried out by military and Border Patrol personnel on 8 different steel and concrete prototype walls built on the Trump administration's instructions in late 2017.
The personnel was instructed to attempt to destroy the barriers with common tools. They succeeded, with frightening ease.
PROPOSED STEEL SLAT PROTOTYPE EASILY BREACHED
The steel slat, or steel bollard, design President Trump has approved for the construction of the wall was easily cut through with a saw.
The DHS tests showed that all eight prototypes were ineffective, according to an internal U.S. Customs and Border Protection report written in February 2018.
President Trump's stated intent during his electoral campaign had been that the wall he would build would be "impenetrable, physical, tall, powerful."
REPORT ON WALL DESIGN DID NOT INCLUDE PHOTOS
San Diego public broadcaster KPBS obtained a censored version of the CBP report through a Freedom of Information Act Request, but photos of the breaches were excluded.
NBC OBTAINS PHOTOS OF FATAL FLAW
NBC News obtained and published a photo of testing results taken at the prototype's testing location, a site known as the "Pogo Row," showing the sawn-through wall.
The President responded to queries about the photo by saying that the wall had been designed by previous administrations.
The President's claim as far as the wall design is correct. However, he failed to mention that the flawed prototypes were built at considerable expense by his own administration from those same designs.
CBP STATES WALL IS NOT INTENDED TO BE INDESTRUCTIBLE
CBP spokesman Ralph DeSio stated that the function of the wall prototypes was not to be indestructible, but to "impede deny efforts to scale, breach, or dig under such a barrier, giving agents time to respond."
President Trump's stated intent during his electoral campaign had been that the wall he would build would be "impenetrable, physical, tall, powerful."
He had also promised that Mexico would pay for the wall, before asking Congress for $5.7 billion for the construction of the 234 miles steel barrier.
Congress' denial of his request has resulted in an on-going government shut-down which has left over 800,000 federal employees without a salary.
Read more about the wall crisis on Twitter Amomama USA.
TRUMP HINTS AT DECLARING EMERGENCY TO END DEADLOCK
As the shutdown continues into its fourth week, President Donald Trump hinted that he may resolve it by declaring a national emergency in order to circumvent Congress' denial of funding for his proposed border wall:
"Well, we can declare a national emergency. We shouldn't have to because this is just common sense."
President Donald Trump
If he declares the national emergency, the White House will be dipping into a $13.9 billion fund approved by Congress last year as part of a disaster response bill.
The bill provided funding for various Army Corps of Engineers projects that have been approved, but not yet implemented.
In a related story, all four living ex-presidents denied President Trump's claim that they support the border wall.
Please fill in your e-mail so we can share with you our top stories!