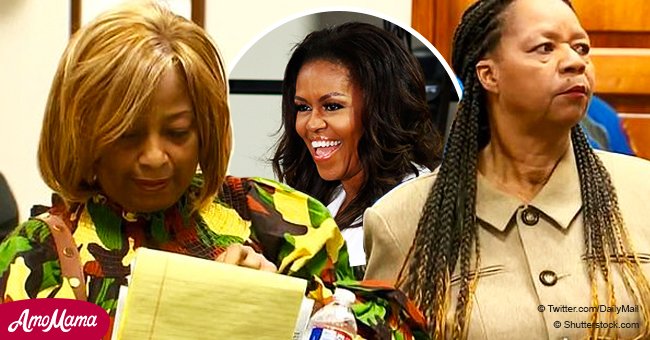 Two Texas officials resign after reportedly paying for Obama's book tour tickets with city funds
Following recent backlash, two Forest Hill officials resigned after receiving reimbursements for two $545 tickets to see the former First Lady Michelle Obama during the promotion of her book, 'Becoming.'
Committee members accused the Forest Hill Mayor, Lyndia Thomas and Mayor Pro Tem Beckie Hayes of misuse of public funds after they attended an event on Michelle Obama's book tour.
The expense got approved by the city manager, but the committee did not see their claim as valid.
The council scheduled a hearing for January 16 to "discuss and consider possible action up to and including reprimand, suspension or removal from office." Thomas asked for a three-month extension to prepare her case, but the city council denied her request. Beckie Hayes denied any allegations and said:
"I will not leave my fate in the hands of other individuals. I am a woman of integrity, and the allegations, they have no substance. They are false."
Lyndia Thomas also took a stand and said she resigned because no one decides her fate but her, as she stated:
"I will not leave my fate in the hands of other individuals."
The two Texas politicians said they are being targeted for political reasons, with both stating that they plan on running for city council again.
Thomas and Hayes got elected in May 2017, and Hayes became mayor pro tem in June 2018.
Last year in March, the mayor of Nashville, Tennessee also resigned after being accused of theft. 54-year-old Megan Barry denied allegations at first, but later plead guilty while also admitting to having an extramarital affair with her police bodyguard.
According to prosecutors, Megan misused between $10,000 (£7,000) and $60,000 (£43,000) in city funds while having an affair with Sgt. Rob Forrest.
As part of Megan's plea deal, she will serve three years' probation and repay the city $11,000 in restitution. Forrest pleaded guilty to theft as well and has agreed to reimburse $45,000.
Congressman Duncan Hunter also came under fire on August 23, 2018, when he got accused of spending campaign money and filing false reports.
Blaming his wife, Margaret, he said that she handled their family expenses and claimed to have repaid $60,000 after some members of his campaign spent money on things they were not supposed to.
The House speaker, Paul Ryan, said soon after that Hunter would be removed from the three House committees. The case is ongoing and being investigated.
Please fill in your e-mail so we can share with you our top stories!