Ever wonder why Kate and Meghan always carry bags in their left hands? Here's the reason
With the multitude of royal outings and pictures taken, the preference of royal woman in carrying items in their left hands stuck out, and they a practical reason.
At royal engagements, Kate Middleton and Meghan Markle have a particular way of holding their handbags and clutches, but it's not just them, it's the other female royal members as well.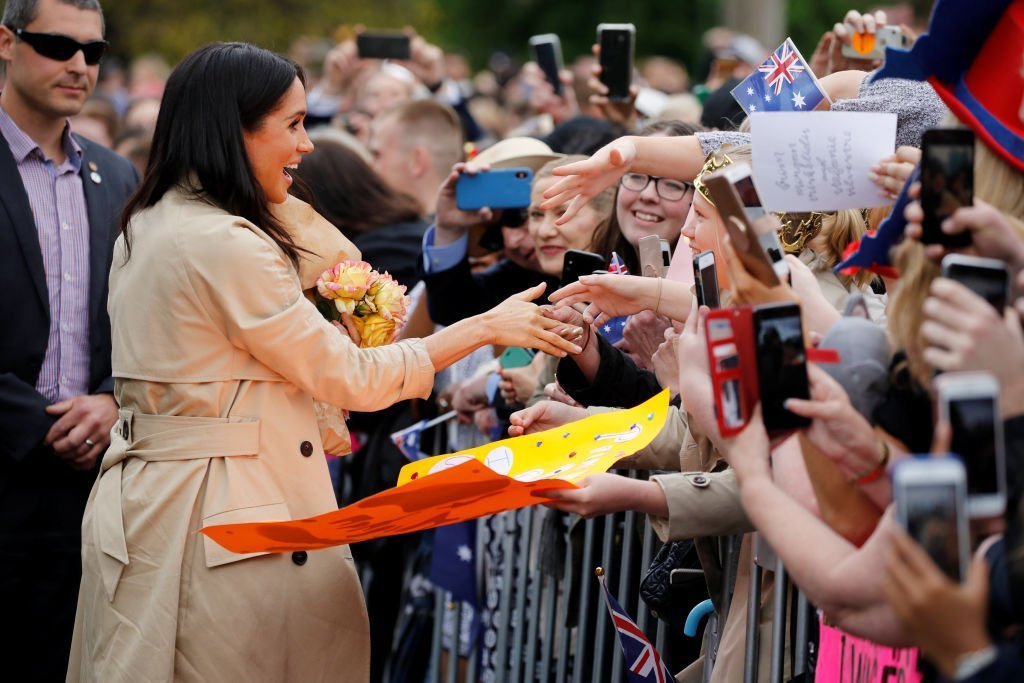 But what seems insignificant, carries a big advantage as they deal with high volumes of people during royal engagements.
A British etiquette teacher and royal expert, Myka Meier, wrote on Instagram that royal woman hold items in their left hands, to keep their right hands free to greet the people they meet.
The Princess Royal also spent time yesterday in @BarrowFoodbank, meeting members of the volunteer team and learning about the work that they do and the people they help. pic.twitter.com/jlZYXHl3ia

— The Royal Family (@RoyalFamily) January 18, 2019
With the number of people that Meghan and Kate greet during official royal engagements, keeping items in their left hands avoid fumbling or juggling to get a hand free, which creates a wrong impression.
The royal women are not the only ones with this practical and cordial solution; the men do the same. Carrying items with their left hands leaves their right free for a handshake.
Occasionally Meghan and Kate are spotted holding items in their right hands, but it mostly occurs when minimal hand to hand interaction is required.
Considered a royal quirk, it is a useful one nonetheless, and could easily be construed as one of the even more quirky royal rules. High on that list is the fact that the Queen is not required by law to have a driver's license.
Sovereigns are not required to have number plates on their vehicle's nor are they required to wear seatbelts on public roads, or any roads for that matter.
The Queen could be driving in an unmarked vehicle without a driver's license and refer to herself as 'The Duke,' and it will all be correct and legal.
The Queen has various names throughout the Commonwealth and the UK, but as Monarch, she is also the proprietor of the Duchy of Lancaster, Her Majesty and is referred to as 'The Duke.' When in the county town or the Channel Islands, she is known as The Duke of Normandy.
Who is the Duke of Normandy today? Queen Elizabeth II

— Future Mogul (@HaitianLurch) September 14, 2012
Queen Victoria considered the title of Duke to be higher than that of a Duchess since a woman could only become a Duchess when her husband is a Duke. Therefore she decreed that every Queen would also be the Duke of Normandy and Lancaster, not Duchess.
A passport adds onto the list of useful things the Queen is not required to have, since she issues them, having traveled to about 130 nations, it can be very convenient not needing travel documentation. 
Queen Elizabeth's purse placement is actually a secret signal to her staff https://t.co/pzzohpSp8a pic.twitter.com/blFkokbtuS

— Travel + Leisure (@TravelLeisure) October 26, 2017
But as she is known for the most traveled royal in history, she developed some stock standard issues with her travel bags, which included a black outfit, in the event tragedy struck. 
Everywhere the Queen travels to, also follows her personal stash of toilet paper, food, water, and blood supply. The Queen always travel with a doctor, who keeps a supply of blood matching her blood type.
Some of the unusual royal laws are quite appealing, how fortunate is the Queen!
The Queen never carries cash in her handbag - apart from on one day of the weekhttps://t.co/3mm8CHClPY pic.twitter.com/zhxaRvJzU9

— Mirror Royal (@MirrorRoyal) October 22, 2017