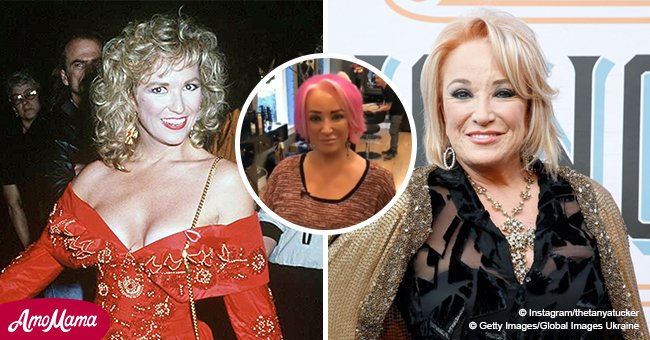 Tanya Tucker stuns fans with her bold new look, and she looks completely unrecognizable
Tanya Tucker debuted a brand new look and fans are loving it. The country singer's hair now matches her bright personality.
Tucker shared her new hairdo on Instagram. The fresh cut stood out, but it was the color that gained tons of attention from her followers.
The "Delta Dawn" singer spiced up her look by dying her hair bright pink. At 60 years old, she's rocking the bold color.
Tucker posted a short clip of her sending a kiss. She appeared to have just finished getting her hair done as the pic is taken at a salon.
"#pinkhairdontcare [rock sign emoji] [hearts emoji]"
The singer, who started at the age of 13, received tons of praise from her fans in the comment section. It looks like she's still as loved as she was before.
Tucker began her career with her 1978 album titled "TNT." Back then, she was rocking her natural curls and portraying a sexy look to the public.
Her natural blond color remained throughout the years as she went for a straighter look later on. She always kept her hair around shoulder length, however.
She often switched up the shape of her hair, but the color remained consistent. In 2016, Tucker finally dived into the world of color.
In an interview with Dan Rather, she appeared with pink streaks within her blond hair. Then she went back to just blond.
Recently, observant fans observed a pinkish look in a highly-filtered picture Tucker posted on her Instagram.
She wore a cap over her hair at the time. It was not until a couple days ago that Tucker made the big reveal in all its bright pink glory.
The "outlaw country" style singer is no stranger to the limelight considering her longstanding career. Back in 1991, she was voted as the "Female Vocalist of the Year" by the Country Music Association.
She now has three children: Presley Tanita, 29, Beau Grayson, 27, and Layla LaCosta, 19.
Of course, the singer is greatly admired and looked up to by those who came after her. For example, LeAnn Rimes who herself shocked fans during an event in June 2018.
Rimes wore a sheer lingerie dress for a performance in West Hollywood in celebration of Gay Pride month. The revealing outfits showed off Rimes' fit body.
She later spoke about how exercise works as an outlet for her grief and stress that resulted from her divorce from Dean Sheremet.
Like Tucker, Rimes' career also took off at the age of 13. He first album, "Blue," reached No. 1 on the Top Country Albums chart and was certified multi-platinum.
Please fill in your e-mail so we can share with you our top stories!