Blake Shelton calls Adam Levine 'Daddy' while wearing ridiculous ears in Ellen's bizarre game
Ellen DeGeneres is known for her pranks and the fun she has with the guest and celebrities on her show, and Monday's episode with Adam Levine and Blake Shelton was no exception.
The judges on the hit talent show, 'The Voice' joined Ellen for a fun segment from her 'Game of Games' where they played the well-known game - telephone. 
Executive producer Andy Lassner and DJ tWitch added to the fun when the four of them played the game of 'Say Whaaat?"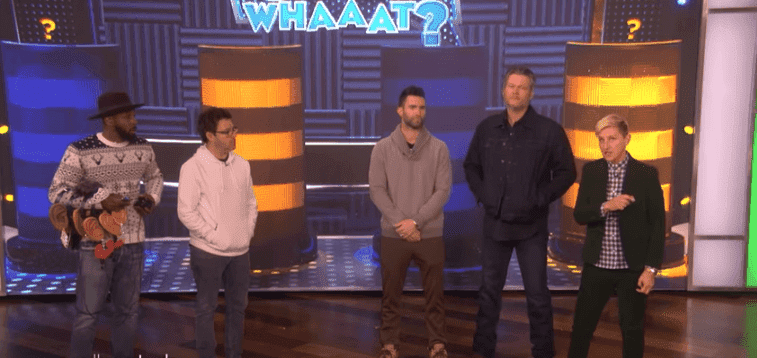 The men all put on noise-canceling headphones with funny ears on them while they had to interpret and relay the sentence to the next until they reach Ellen again, and the results were hilarious!
As Adam and Blake mentioned before they began, there was something at stake; the loser had to call the winner 'Daddy' as Blake humorously quipped, "There's actually a good chance that I really am his daddy," before they began.
With everyone's ridiculous headphones on, they were ready to begin attempts at lip reading innuendo-laced sentences and passing it along to the next in line.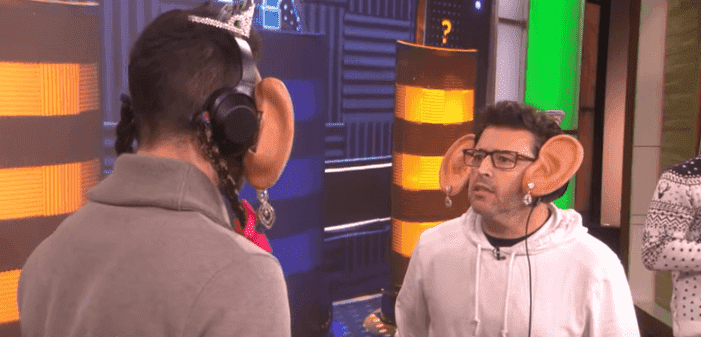 Ellen got the game going, and Adam was up first as she
said
the first sentence:
"Blake Shelton has hard hands from diddling his banjo."
Frowningly Adam gave Ellen a blank look, but then told Andy, "Blake Shelton has no brain." The sentence became "Blake Shelton has big balls" and made its way back to Ellen unchanged after that.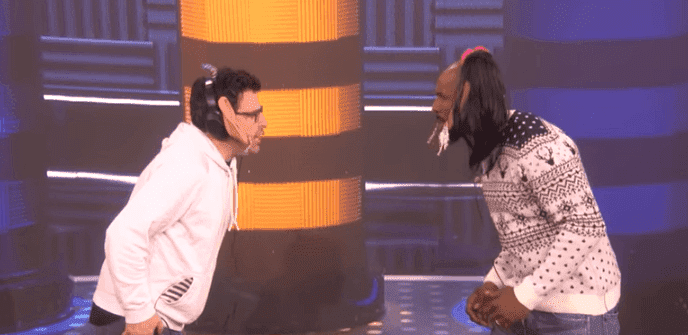 The second and deciding round had Blake starting, as Ellen
told
him:
"Adam Levine bumped his ball peen hammer into Blake's biscuit."
The audience laughed as it became "Adam Levine prefers Coke over Pepsi" which turned into "Adam Levine prefers cats over parrots," and had the audience in stitches by the time it got to Ellen as "Adam Levine prefers that over parties."
Needless to say, when Adam got crowned as the victor there was only one thing Blake could do as he looked at Adam and said, "Oh daddy!"
The previous season of 'The Voice' ended in December 2018, where Kelly Clarkson's contestant, Chevel Shepherd won the 15th season.
However, there are myriad of things that have to fall into place before the audience and viewers see a contestant get up on stage to sing for the judges. The process can take months with many hoops to jump through before you become an actual contestant.
https://t.co/JlPrH9A54t

This was his blind audition at The Voice

— Denzel 🇷🇺🇬🇷🇨🇭 (@DenzelDiMare) January 21, 2019
To begin with, you have to be over the age of 13 by March 20, 2019, to meet age eligibility, followed by being able to travel on your own expense to make it for tryouts.
In the event you get selected as a participant, you have to be willing to travel and stay at an unknown location for several weeks for the duration of the season, which is from June 2019 until December 2019.
I feel so blessed to have been given the opportunity to audition for The Voice.

I believe everything happens for a reason. I will continue to work harder on my music and hopefully grow… https://t.co/yZtDPMXJzB

— Hollyleelefevre (@hollyleelefevre) January 20, 2019
Open calls are ACapella only, and if your first audition didn't go as planned, you could attend another one, although it's not recommended.
The application is made easy, as you can submit yours online or even by mail if you are unable to attend in Nashville, San Francisco, Miami or New York.
If you want to hide your nerves under a chicken suit or using an entourage cheering you on, you will have to find another way. No accompaniment at first auditions is allowed for anyone over 18 years of age.
Thankfully Kennedy Holmes from Season 15 made the age requirements, even if it was barely, as the 13-year-old stunned the judges early on in the season with her rendition of Adele's 'Turning Tables.' Her performance stunned all the judged who turned their seat before she came to the end of the song.
Fans are eagerly awaiting the start of the next season in June to see what talent will be in store to awe and inspire us until the crowning of the next winner.