Morning TV show host slams Prince Philip as 'rudest human being I have ever met' over car crash
In a new column for the Daily Mail, Piers Morgan weighed in on Prince Philip's rude actions after the car accident allegedly caused by the 97-year old on January 17.
Prince Philip's selfish behavior following the car accident reminded Piers Morgan of a "run-in" the pair had while being guests at Prince Charles's fiftieth birthday party held at Buckingham Palace.
Describing the Duke as being "breathtakingly offhand" and refusing to shake his hand, reportedly Prince Philip instead "barked menacingly" and asked who Morgan was.
I'm fairly certain my new column is going to be the final nail in my chances of becoming Sir Piers.
fyi pic.twitter.com/O1KhB9Fu3m

— Piers Morgan (@piersmorgan) January 21, 2019
The TV host's reply did not sit well with Prince Philip. Morgan described the look on his face as "open-mouthed disgust and revulsion" about being in the company of tabloid journalists.
According to Morgan, Prince Philip walked away without uttering a word. What bothered Piers the most is that the Duke could be so rude to a guest at his own son's birthday party. 
The way Prince Philip handled the aftermath of his accident last Thursday reminded Morgan of that day, as it appeared he showed the same apathy towards the consequences of his actions.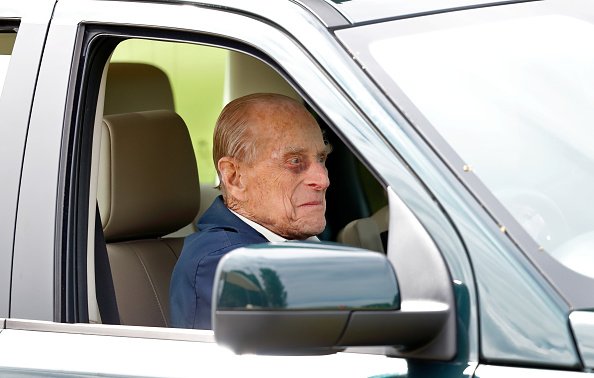 The car crash happened last Thursday on a public road close to the royal estate of Sandringham in Norfolk. Prince Philip drove out from a side road in his Land Rover Freelander and collided with a Kia on the main road.
Emma Fairweather, a passenger in the Kia, broke her wrist while her friend who was driving the Kia only sustained minor injuries and her 9-month-old baby was thankfully unhurt.
Miraculously, Prince Philip remained unscathed even though his Freelander rolled over onto its side. It is what happened after the crash that bothered Piers Morgan the most, as he said:
"The very next day, a new Land Rover was ostentatiously delivered to Philip in full view of the media. And within just a few hours he was driving it around public roads without wearing a seatbelt - an illegal act. And how staggeringly insensitive to the people whose car he smashed into only hours earlier!"
All for getting back on the horse but is this right? Prince Philip - who is 97 and had a serious accident involving another car where two people needed hospital treatment - pictured out driving alone in his replacement car and ISN'T wearing a seatbelt https://t.co/Xa1jfypRcf

— Russell Myers (@rjmyers) January 19, 2019
What added insult to injury is that Prince Philip never bothered to contact the people he crashed into. Instead, one of the Queen's aides left a voicemail message stating that the royal family held them in their thoughts.
In Morgan's opinion, Prince Philip does not care what others think or feel as he added:
"It doesn't seem to me that Philip has been thinking of anyone but himself, in the most selfish, aloof and inconsiderate possible manner."
Some Twitter users do not agree with Morgan's opinion, stating that most people do not contact those they crashed into after the fact.
@piersmorgan Re Prince Philip and the accident: After any accident you've had how many times have you contacted the other party later on other than for Insurance info? MOST of us never do so why should he + insurance policy terms prohibit you admitting fault,(didnt you know this?

— S (@Driver4hire1) January 22, 2019
The controversial television host also appealed to the Queen during his rant and said:
"So I respectfully suggest Her Majesty now has a very firm word in the Duke of Hazard's cantankerous, belligerent ear, tells him to stop being such a stubborn, callous fool, and orders him to give up driving. For his sake, and ours."
46-year-old Emma Fairweather said she never received an apology, and added:
"I love the royals but I've been ignored and rejected, and I'm in a lot of pain. It would mean the world to me if Prince Philip said sorry, but I have no idea if he's sorry at all. What would it have taken for him and the Queen to send me a card and a bunch of flowers?"
Other followers on Twitter shared Emma's thoughts, thinking it only the decent thing to do to offer a form of compensation for his wrongdoing. 
if he had any decency he'd compensate the family he hit.

— Steven R (@Steveninformed) January 21, 2019
What Emma said she received was nothing more than a cryptic message through a police family liaison officer, which said:
"The Queen and the Duke of Edinburgh would like to be remembered to you."
The driver of the Kia, Ellie Townsend, 28, who is also the mother of the 9-month-old baby, has remained silent. The press released the first pictures of Emma following the accident after she spoke out about the crash and the aftermath.
No 97-year-old should be allowed to drive.
And Philip has plenty of servants & bodyguards who can drive him around. https://t.co/1rq7GNJivs

— Piers Morgan (@piersmorgan) January 21, 2019