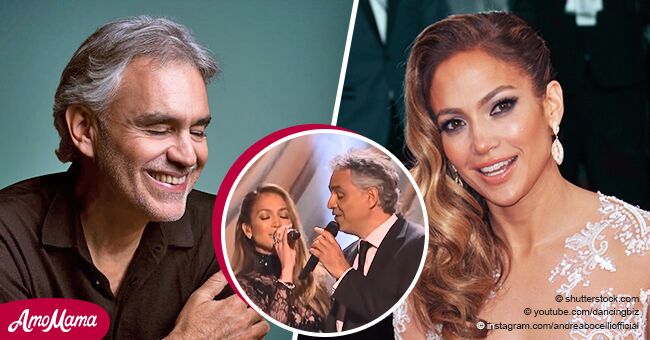 Do you remember this stunning performance of J-Lo and Andrea Bocelli?

Back in 2013, Italian tenor Andrea Bocelli teamed up with pop star Jennifer Lopez in a move to become more appealing to the mainstream public as he promoted his crossover album "Passione."
Following the release of the album's first single "Quizás, Quizás, Quizás" recorded as a duo by both artists, Bocelli and Lopez delighted the viewers of the dancing competition "Dancing with the Stars" in a historical performance.
Although not the only time, this marked one of the few times the American public at large had the chance to hear Lopez singing in Spanish. Read more on our Twitter account @amomama_usa
She had released her first Spanish language album in 2007, apart from recording several duos with her former husband and father of her children, Marc Anthony.
"Passionate" responded to Bocelli's aim to win the pop world following 20 years of career as a classical singer. For this, he featured other famous stars like Nelly Furtado or Edith Piaf.
Performing alongside a critically acclaimed seasoned opera singer was very positive for Lopez, who didn't disappoint the audience when she proved she can really sing beyond her traditional genre.
"An icon legend Andrea Bocelli said Jennifer sings great and let her sing with him, that is how you know Jennifer Lopez can sing and has a beautiful voice and tone."
-Soto N, YouTube, 2018.
"Very intimately performed. Loved it! They both meant every single word they sang and they both are beautiful people inside out," user "Sally Ot" commented.
In 2018, Bocelli returned to the recording studio to release his first album with new music after 14 years. The album, simply titled "Si," features a guest singer who is very special for him, his own son Matteo.
Matteo and Andrea collaborated on the song "Fall On Me." "It talks about the beautiful relation that I have with my father. And about the relation that many sons have with their parents," Matteo said in an interview.
Although Matteo is classically trained in music and plays the piano, his father only noticed his son could really sing a couple of years ago, after Matteo's mother brought this fact to his attention.
Just like his father, Matteo also had the chance to share the spotlight with Lopez, although not exactly as a singer. In 2018, Matteo took part in a photo session alongside the star for an advertising campaign.
Please fill in your e-mail so we can share with you our top stories!