Cardi B says she wants to 'go home' to Offset and baby Kulture only a month after split
Only a month after their nasty split, it seems Cardi B is ready to "come home" to a complete family and finally reconcile with her estranged husband.
While Cardi B is on tour, Offset has been taking care of baby Kulture for her. Clearly missing her daughter, she posted a screenshot of her FaceTime video call with her husband, saying "I wanna go home." 
Fans were shocked when Cardi posted the screenshot, where Offset could be seen giving their baby daughter a kiss on the cheek. Of course, the couple hasn't been sharing pictures of their baby girl, so she covered Kulture's face with heart emojis.
Before this year started, everyone thought that Cardi and Offset were through. This was because although Offset has been quite clear about his intention of getting back together with the singer, she hasn't been reciprocating. However, it seems things took a turn in 2019, as the couple has been trying their best to be better for each other. 
Cardi's sudden change of heart was because of Offset's persistence in making things right between them. Back in December, Offset tried to make a grand gesture towards Cardi, surprising her with a giant wall of red and white flowers that read "Take Me Back Cardi". The Migos singer then appeared on stage with a large bouquet, while Cardi looked extremely annoyed. 
Offset Crashes Cardi B's Set to Beg for Her Back — and She Kicks Him Off the Stage https://t.co/L4ctXZgShv

— People (@people) December 16, 2018
She said something to him without the microphone, but Offset wanted to state things publicly. Through his own mic, he said:
"Hey. I just want to tell you I'm sorry, in person, in front of the world. I love you."
It was also through that concert that the "Bad and Boujee" rapper stated his intention to do everything he possibly can to convince Cardi that he's trying to change.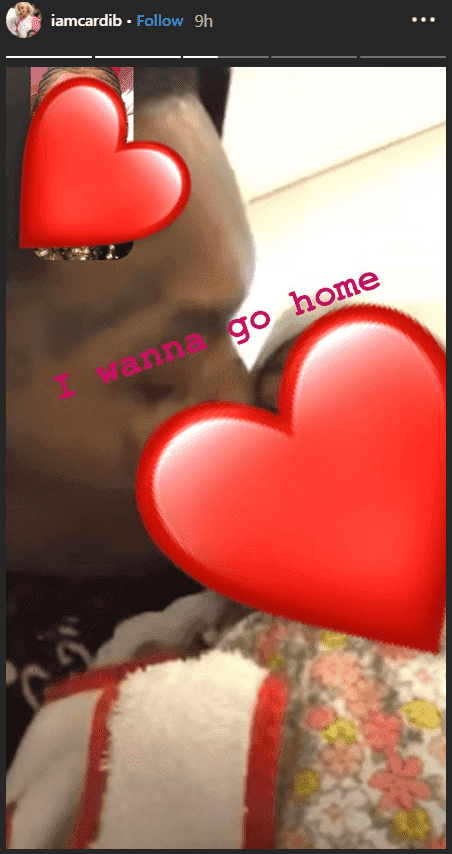 Since then, it seems they have been trying to work it out. They were first seen riding jet skis on a recent trip to Puerto Rico, and now that she's back on tour, her husband has volunteered to take good care of their daughter while Cardi is away. 
Of course, Offset and Cardi are taking it slow. He vowed to change his ways and be faithful, honest, and true to her for the rest of their lives. While it hasn't been clear to the public that Cardi actually agreed to trust in Offset again, her Instagram story clearly changes things.