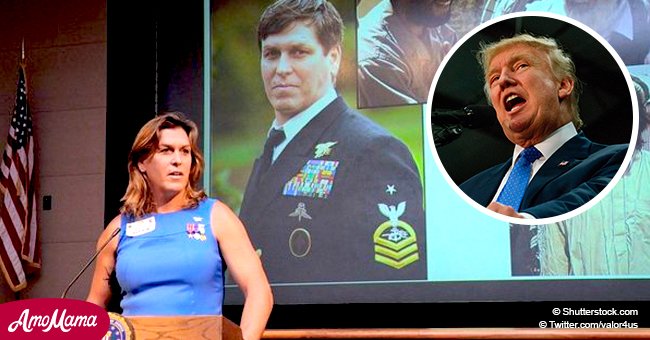 Transgender ex-US Navy seal blasts President Trump's ban calling it 'bulls---'
Following the Supreme Court decision to revive the Trump administration's ban on transgender people serving in the military, former US Navy SEAL and transgender woman Kristin Beck is openly questioning Trump's views.
Beck, served the US as a Navy SEAL for 20 years before transitioning to a woman, and she was one of the many members from the LGBT community who has spoken out against the discriminatory measure and the reasoning behind it.
The US policy approved by the Court forbids people with gender dysphoria to serve in the military because this condition allegedly impairs functionality. Read more on our Twitter account @amomama_usa
Since Trump first introduced the proposal back in June, Beck has expressed her outrage over the ban in social media and TV, and she has returned to discredit Trump's allegations that transgender people are not effective officials.
Beck said Trump's claims that trans service members aren't as lethal as their cisgender counterparts are false, and she can back this up citing many examples of trans people within the military who do excellent work.
The war veteran complained about the administration's latest move to keep citizens from serving their country because of their gender identities.
"Day after Dr Martin Luther King Jr Day, our government is using same TACTICS and arguments to OPPRESS group of citizens. Trans Rights Are Human Rights!" Beck tweeted.
"Not smart enough? Can't lead others? Can't follow orders? Lethal? EFFECTIVE? It's all [expletive]! I was."
-Kris Beck, Twitter, January 22, 2019.
Beck's impressive record includes earning the Bronze Star award and the Purple Heart after being wounded in combat, and she served the US both in Iraq and Afghanistan.
In July 2018, Beck entered the conversation around the ban in response to a Tweet by President Trump suggesting that transgender people were disrupting in the military.
"I am not disruptive and none of my friends who are serving active duty are disruptive. We are serving with honor. We have capability and worth that is far more expensive than anyone would know if you just get rid of us," Beck said.
Having transgender individuals serving in the military is not rare. According to Beck, 18 nations allow transgender people to serve. But something that people is not used to seeing anywhere is a man getting pregnant.
As unusual as it might be, people have the chance of either react with curiosity, empathy and understanding or let the fear of the new become anger and hatred.
A transgender man from Oregon named Trystan Reese who had kept his female reproductive organs intact during his transition decided to have a child with his partner Biff Chaplow, and he became the target of online haters.
But instead of letting the hostile comments directed at him and his partner make him feel down, he decided to openly address the intolerance of those not confident enough to approach them in public.
Please fill in your e-mail so we can share with you our top stories!