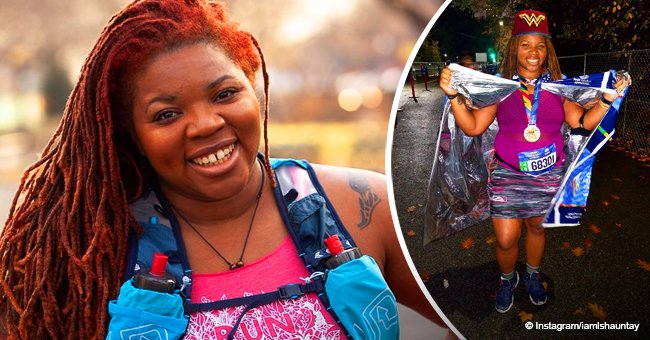 Meet the plus-size runner who didn't give up after once being body-shamed by man at NYC marathon
Latoya Shauntay Snell, an ultramarathoner, wife, mother, activist and food blogger, has become an inspiration for plus-size women after sharing her story about how she was harassed for her weight while running through the New York City Marathon two years ago.
The 2017 New York City Marathon was Snell's eighth marathon after she discovered a passion for running, an activity that she deemed as "oxygen."
After facing several physical and emotional struggles, Snell was ready to take home her medal in the marathon, leaving all her energy and adrenaline on the course.
But what she wasn't expecting were the words of a "tall, balding white man," a bystander, that felt appropriate to shout her "It's gonna take your fat a*s forever, huh?"
Snell described the upsetting situation in a blog entry for The Root, writing:
"Shocked and angry, I stopped and retorted expletives and insults. Two other female runners witnessed our confrontation and told me he wasn't worth it. They were right, of course, but the damage was already done. By that point, I'd lost minutes and much-needed energy to a man who took pride in poking fun at my size."
The most frustrating thing about the entire exchange, she said, is that the man had no idea what her reasons were for running or the struggles she had gone through before deciding to take part on the marathon.
For example, that she considered abandoning marathons altogether after the miscarriage of twins only three months before. Or that she had undergone surgery for endometriosis, or that she was constantly dealing with racist and fat shaming comments on her food blog.
"As a mere spectator, he saw my 5-foot-3-inch, 218-pound body as a joke," she continued. "And I—an exhausted runner who was so close but still so far from the finish line—fell for the bait, as he lured me with insults."
The man also didn't know that in 2013, Snell's scale tipped over 265lbs, and she stopped weighing herself.
Or how when she decided to change her lifestyle, she fell in love with fitness and running, and ended up learning more about herself and what happiness really meant for her.
"My new sport helped me find freedom and strength through the pavement, but it also taught me that the number on the scale didn't dictate or govern my happiness."
She lost over 170 lbs in two years, but was met with the same backlash she faced when she was over 250 lbs.; this time around, with people telling her she was too thin and even asking if she was on drugs.
In the end, Snell gained some of her weight back on purpose but kept working out, running marathons and developing a healthier relationship with food and her body.
So, after her initial reaction to the man's comments, Snell realized that there was no need for her to harbor anger or aggression because "that man wasn't the first, and likely won't be the last, to toss off a callous comment about my weight."
She added:
"I'm aware of what I look like, and the stereotypes that accompany my size, and anyone who thinks I need to be educated about the laundry list of obesity risks needn't bother. I'm fat. Full-figured. Thick. Plus-size. Powerful. Capable. Empowering. Phenomenal."
And in the end, she said, the most powerful clapback for that man was the fact that her thick legs were able to carry her from New York's Staten Island, across five boroughs and ending in Manhattan.
"I am powerful because I believe that I am," said Snell. "And I owe nobody an explanation for what moves me."
These days, Latoya has become and celebrity on Instagram. Sharing her work out routines, food recipes, and filling her feed with positive messages that inspire other plus-size women to embrace their curves.
Please fill in your e-mail so we can share with you our top stories!