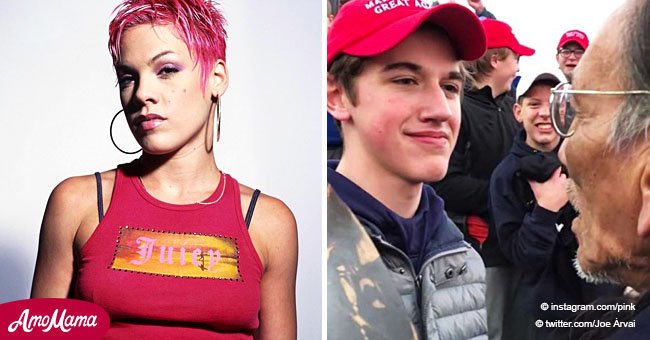 Pink refuses to apologize for blaming student involved in face-off with Native American elder
Pink was one of the celebrities who condemned the Catholic MAGA hat-wearing student involved in a confrontation with a Native American elder. While she received a lot of backlash for it, Pink won't apologize.
In her initial post, Pink had called MAGA-hat wearing Nick Sandmann's behavior "appalling and beyond disrespectful."
In a recent post, she revealed that she was standing by her opinion, despite some of her followers disagreeing with her. In her latest post on Instagram, she still refuses to apologize for her stance.
Alongside an old photo of herself, the musician wrote:
"I am the same girl I've always been. I have always admitted when I am wrong. I have apologized many times. I'm a big believer in apologies, when you're wrong."
In her lengthy post, she called America "broken" and added that "we're all to blame." She revealed that she was also willing to stand up for what she believes is right, "Even if that means standing alone."
The star insisted that she wouldn't apologize for what she called her "polarizing opinions," adding that those who were "uncomfortable" because of her opinions could "unfollow" her.
"There are many beautiful people in the world and in this country who want equality for all. Justice. For people to be paid for their work. For their leaders to communicate in productive ways. For children to have respect for others, for veterans to be honored and treated with respect."
Pink concluded her passionate post by writing:
"These are the ideals my father raised me with. And you all cannot talk me out of it. No matter what vile things you say about me and my husband and my children. Onwards and upwards. Keep fighting the good fight."
Sandmann, 16, was filmed staring down Native American and Vietnam War veteran Nathan Phillips, 64, at the Lincoln Memorial.
The elder had gotten in the boy's face to try and diffuse a tense situation between the student, his schoolmates, and a group called the Hebrew Israelites.
Instead, the Covington Catholic High School students mocked and teased Phillips as he stood playing the drum. Sandmann has since defended his actions in a statement saying he was misunderstood.
The army veteran said he now wished to teach the students about "cultural appropriation, racism, and the importance of listening to and respecting diverse cultures."
On February 5, Pink is set to receive a star on the Hollywood Walk of Fame. The Hollywood Chamber of Commerce made the announcement on the same day she wrote her post on Instagram.
Please fill in your e-mail so we can share with you our top stories!