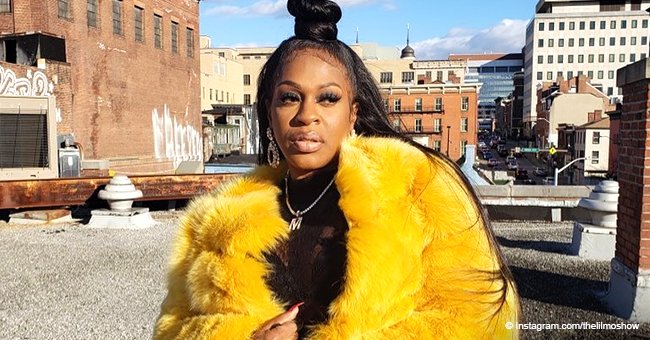 Mother-of-five Lil Mo calls out parents of R. Kelly victims for not being protective enough
Lil Mo and husband, boxer Karl Dargan aka Dynamite KO, are joining the masses of celebrities calling out the parents of R. Kelly's victims. They claim the parents weren't protective enough.
During an interview with The Breakfast Club, Lil Mo and her husband Karl Dargan opened up about their opinion on certain topics. They came on the show to promote their show Marriage Boot Camp.
While there they answered questions on several topics, including their thoughts on the Surviving R. Kelly documentary. The touchy topic brought about an interesting discussion.
Lil' Mo admitted she has not watched the Lifetime's docu-series, "Surviving R Kelly." However, she went on to say she had some questions about the situation.
The star questioned the parents of Surviving R. Kelly. She revealed that she believes "88 percent" of the blame should be on them.
"Who raised these people?" she asked of the accusers.
Mo is a mom of five. She said that as a mother, she is very protective of her children and doesn't understand the parents in "Surviving R. Kelly."
She questions why any parent would drop their kids off at R. Kelly's house/studio. The singer went on to stress the importance of teaching kids about their bodies and boundaries.
"My son, he is three. He is potty trained, but when he went to school, he was nervous and he wouldn't let anyone touch him. They had to call us because he said, 'My daddy said you can't touch my butt. You can't touch my wee wee," she said. Adding, "I'm very overprotective of my children, so with that R. Kelly situation, like what did the parents–I'm like, 'Are you serious?'" Mo said around the 42:00 mark.
She did not reveal whether she supported R Kelly or not. She is not the only star to question the parents though.
Keyshia Cole and Erykah Badu also released strong statements about the debacle. Cole even took to Twitter to say that parents need to take more responsibility for their children.
The R Kelly saga is continuously developing. The rapper is currently facing multiple accusations of sexual assault of minors after a docu-series called "Surviving R Kelly" was aired. The series had interviews with alleged victims who described the horrors they apparently suffered at his hands.
Please fill in your e-mail so we can share with you our top stories!