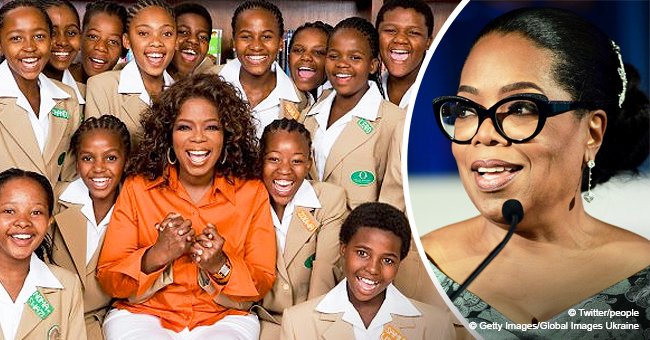 Oprah reveals why 'mothering instinct' was not for her & talks about the 'daughters' she never had
Oprah Winfrey opened up about why she felt the "mothering instinct" wasn't for her. She also spoke about the "daughters" she never had.
The stunning TV show host, Oprah Winfrey opened up in an interview with PEOPLE magazine. During the interview, she spoke about the Oprah Winfrey Leadership Academy for Girls in South Africa.
The proud founder spoke lovingly about the students and alumnae of the school. She revealed that they often think of her as Mom O.
Winfrey explained that the girls often turn to her for advice. She revealed they ask her everything from dating dos and don't to the best way to honor a parent who has died and even how she pictures their futures.
"They are my greatest, deepest joy," said Winfrey.
The OWLAG Opened in 2007. It is a boarding school that Winfrey ensured was decked out with world-class facilities. 90 percent of graduates have enrolled in ivy league colleges like Harvard and Oxford after graduating from school.
"I wanted to build a school for girls who are like me," Winfrey tells PEOPLE.
Winfrey did not grow up well off, she was raised by her grandmother in Mississippi during the Jim Crow era. She understands how poverty can trap people in its cycle and desperately wanted to give the girls a chance to break out of it.
During the interview, she said that her girls "have been in the heart and heat of poverty. Poverty itself is a traumatic event, just trying to be able to have food on your table every day. Most girls have lost one or another really close relative, sometimes both mother and father."
She has become more than mentor and students. She considers them family and often listens and advises the girls. The girls started calling her Mom O even though she was hesitant at first.
"When the girls started calling me Mom O, I did not want their mothers or their legal guardians to think that I was stepping in and trying to take over the role their mom mom holds in their lives," she says. "I'm very much aware of who I am and what my role is for them. They're the daughters I did not have," Winfrey says. "I never thought that that mothering instinct was something for me. I like babies, but I like them like, 'Hi baby, okay, now go over there.' I like children when they can actually speak to me and tell what is the problem. This is how having children was supposed to manifest for me."
Besides her girls, Oprah is also the godmother to a few children including Tyler Perry's only son and Blue Ivy Carter, Beyonce's daughter.
Please fill in your e-mail so we can share with you our top stories!