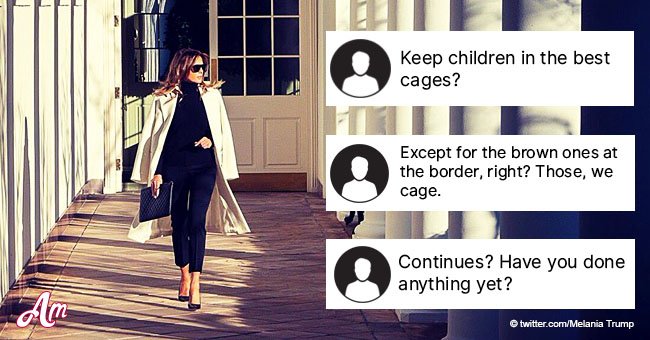 Melania Trump attacked for her husband's actions after writing about 'the well-being of children'
January 20, 2019, marked the second anniversary of President Donald Trump's oath of office, and when Melania took to social media to celebrate the start of another year as first lady, she was mocked and criticized.
The 48-year-old shared the same message and picture on both her official Instagram and Twitter accounts to remind the public of her achievements as First Lady, citing her #BeBest campaign, and it angered her detractors.
Melania mentioned three of the issues she promises to keep addressing on 2019: online safety, opioid abuse, and "the well-being of children everywhere," noticeably dropping the "anti-bullying" part, possibly due to her husband's online manners.
While the former model has had committed her share of terrible PR mistakes, often offending people on sensitive themes such as immigration and natural disasters, she often has to face the netizen's outrage over President Trump's policies.
Following another controversial year for the Trump administration, which received much backlash because of its responsibility regarding the separation of families at the US border, Melania's words about children were not well-received by some.
"It has been an unforgettable two years in the @WhiteHouse. I am honored to serve this great nation!"
"Our work in the East wing continues into 2019 with online safety, fighting opioid abuse & supporting the well-being of children everywhere! #BeBest."
-Melania Trump, Twitter, January 25, 2019.
Replies by social media users noted the contradiction between Melania's causes and the acts of President Trump, and many suggested that to be true to her words she couldn't ignore the children that are still kept in camps at the US border.
"Oh, and btw there seem to be 1000s of kids at the border your husband put in camps. Check on their well-being? Thx!," someone responded to Melania's tweet, pointing out the contradiction.
"Except for the brown ones at the border, right? Those, we cage. #BeBest" wrote another angry user.
"This is like a slaughterhouse declaring they will continue supporting the well-being of cows. You and your malignant husband are a human rights atrocity," was another of the harsh comments in reaction to her post.
"You should be working on your husband. He needs serious help. He hurts more people than anyone else in the country," somebody else advised Melania.
Some people related Melania's claims of supporting children with the hardship the families of federal workers who missed pay because of the recently ended government shutdown had to endure.
"Not to mention all the children of Federal workers would have suffered during the shutdown," added a user. "Does that include forcing govt employees to go to food banks while you jet off to Mar-a-Lago?" tweeted yet another person.
A few days before sharing her intentions on this new year at the White House, the first lady posted a photograph of herself and President Trump taken during their first dance after taking office.
"It has been an unforgettable two years in the @WhiteHouse. I am honored to serve this great nation!" Melania captioned the throwback image.
Please fill in your e-mail so we can share with you our top stories!