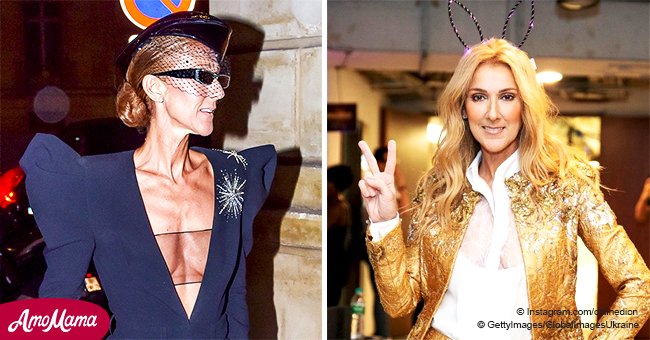 Fans in doubt over Céline Dion's health after skinny pic of the star in an odd outfit is revealed
Celine Dion decided to go to the Alexandre Vauthier fashion show at the Paris Fashion Week, but she never imagined that her presence would cause such a stir.
The Canadian singer was photographed more than the models during the event. The reason? The extreme thinness of the 50-year-old artist caught the attention of everyone present.
The interpreter photos were posted on Twitter and have left fans uneasy, as the press realized that the music star has a completely different face and has much thinner anatomy.
It is not the first time that Celine is criticized for her thin figure. 12 years ago she also had to give statements for the concern of her fans.
"I'm not anorexic. It pisses people off that I am thin without making any effort. I've been thin all my life," she said in 2007. Will it still be? we all hope for her health and the welfare of her fans that it is as she says.
The reason why the Canadian is in Paris is because the Fashion Week is taking place these days, where firms such as Valentino, Ronald van der Kemp, Giorgio Armani Privé and Alexandre Vauthier, have presented their new creations.
The singer is giving us authentic style lessons every time she steps out of the Hotel Crillon, where she stays while attending almost all the Paris Fashion Week shows.
Céline Dion was photographed while wearing the Maison Margiela garments designed by John Galliano: an "oversize" proposal composed of an enormous yellow dress with a hood, a fantastic American that hybridizes with a wool jacket and the inevitable "chunky" sneakers.
It was a set that surely very few celebrities would dare to wear off the catwalk. Of course, the only change that Céline made to this outfit was not carrying the metallic shoulder bag with which it was presented in catwalks.
If you love Celine Dion as much as we do, you'll like this story about a The Voice Kids Belgium contestant named Abu, who wowed the judges with his amazing rendition of Celine's hit song, My Heart Will Go On.
At first, he appeared nervous when he looked at the crowd, so the judges wondered whether Abu would be able to live up to the expectations of this incredible song. But Abu showed his true mettle within just a few minutes.
Please fill in your e-mail so we can share with you our top stories!