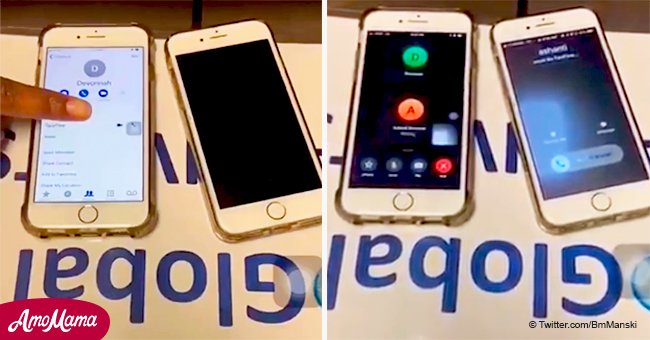 iPhone and Mac users can be eavesdropped on due to program privacy glitch
Apple iPhone users may want to turn off their FaceTime feature due to a bug that allows people to answer another user's call without their knowledge. They could attain both audio and visual from the other phone.
The clip of an iPhone user showing the glitch went viral on Monday night. It shows one iPhone FaceTime calling another iPhone just next to it. What happened next shocked Apple customers.
On the phone making the call, someone from behind the camera is seen pressing some options that eventually lead to the calling phone receiving audio from the other one.
Online persons responded with shock. Many saw some humor in the occurrence, but it's clear that the issue is a serious one.
The receiving phone was never answered. This means that someone would be able to call another phone and be able to listen in on them without them knowing.
The glitch affects iPhones and iPads with the iOS 12.1 update, as well as Apple computers equipped with macOS Mojave. These devices feature the Group FaceTime feature that the company recently promoted.
The phenomenon applies whether or not a person rejects the call or lets it ring out. When calling, one would have to swipe up and select "Add Person." They then add their own phone number, initiating a group FaceTime call.
At that point, they can hear live audio of the other iPhone while the latter still has a "call coming in screen." According to CNN, video from that phone can be acquired as well if the receiver presses the volume button.
Apple responded to the privacy invasion issue in a statement released by the Associated Press.
"[We] have identified a fix that will be released in a software update later this week."
In the meantime, Apple users continued to make fun of what was going on with their phones. One user said he would pretend he was in church if he didn't want to answer a call.
The company has already disabled the Group FaceTime feature if their website is to be believed. However, users might want to disable FaceTime totally in their settings.
They can do so by selecting "FaceTime" in settings and toggling the green button at the top to off mode. On their Mac, users should open the FaceTime app and, at the top of the screen, select "Turn FaceTime Off."
iPhones are a luxury smartphone renowned for their durability, reliability, and, before Monday, their security. For many, their reputation gets an automatic step up by simply owning the phone.
One man was so determined to get an iPhone that he sold his kidney. Sadly he is now bedridden for life.
25-year-old Wang Shangkun was only 17 years old when he made the rash decision to undergo the illegal and very dangerous surgery in 2011. Eight years later, he relies on dialysis to stay alive.
Shangkun admitted that he wanted the iPhone 4 and an iPad at the time to show off to friends. He didn't have the money to buy either so he went online and made arrangements.
He got the money and bought the devices. Later, an infection developed due to unsanitary conditions from the procedures. Nine people including the doctors were arrested and his family was paid $300,00 in compensation.
Please fill in your e-mail so we can share with you our top stories!