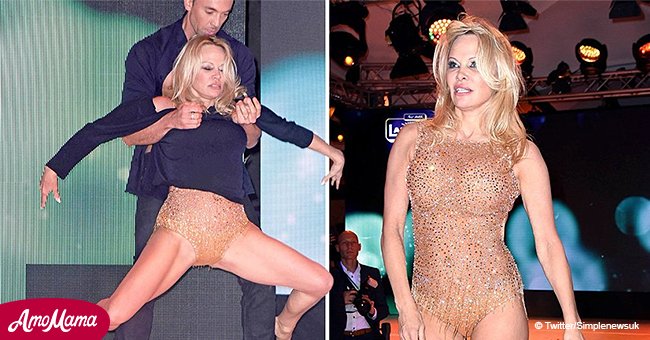 Pamela Anderson, 51, delivers racy dance performance sizzling in nude barely-there gold leotard

Pamela Anderson turned up the heat as she performed a daring dance routine with Maxime Dereymez.
The 51-year-old actress stunned fans with racy moves at the Rockin' Chocolate bash at Cologne's Alter Wartesaal in Germany on January 29.
The 'Baywatch' star wore a gold tasseled leotard, which showed off her shapely legs along with a cozy navy jumper while she opted to go barefoot for the routine.
Pamela complimented her look with a more natural look that consisted of matt foundation and her characteristic darkly applied eyeliner.
With flowing blond tresses, Pamela performed a series of sizzling moves as her dance partner, 36-year-old Maxime effortlessly transitioned between the lifts and moves.
Throughout the energetic display, the actress kept her golden locks in style as they whisked through their routine.
But her daring dance routine with partner Maxime is not the jaw-dropping thing Pamela had done lately.
The former Baywatch babe announced on Twitter that she is on a mission to tackle "Porn and PlayStation" as part of a lengthy post.
According to Pamela, men who watched porn made the "worst lovers" but have also become "desensitized," and referred to it as "empty head disease."
In her tweet, Pamela added:
"As young adults, we can make our own choices. But, it's a slippery slope. I pray kids can be brave and rebel against it all. Nightmare."
The star had become outspoken on various issues of political and animal right's related matters, but now she also ironically enough, advocate against men watching porn as she said:
"The worst lovers watch porn - numb, desensitized… needing more and more variety even violent. Porn is not what love looks like. Brave and radical men who read and who are engaged in the world are sexy."
She also claimed that "vegans are the best lovers" and added that it's been proven. However, the issues surrounding porn is not the only issue she had been vocal about recently.
During an interview with Liam Bartlett for '60 Minutes,' on November 4, 2018, Pamela spoke of her feelings regarding the #MeToo Movement. She referred to the "third wave feminism" as a bore although she considers herself a feminist.
Pamela also surprised on her view regarding the #MeToo movement as she added:
"I think that this #MeToo movement is a bit too much for me, I'm sorry, I'll probably get killed for saying that... but my mother taught me, don't go to a hotel with a stranger."
In Pamela's opinion, women use the movement to get attention and any victims of abuse should report the matter as soon as it happens.
After recent appearances, fans eagerly wait to see what the former Baywatch babe will get up to next.
Please fill in your e-mail so we can share with you our top stories!