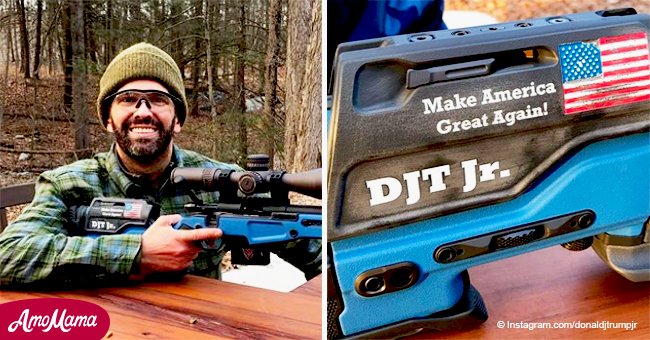 Don. Trump Jr. brags with his custom 'Make America Great Again' rifle, shows off his winter beard
The first son of the President took to Instagram to share pictures, shown below, of the swell time he had during his mini-vacation.
While Donald Trump was busy in Washington DC trying to find a way to push his border wall agenda through, his eldest son, Donald Trump Jnr., was enjoying some time off the drama of the capital and the Big Apple.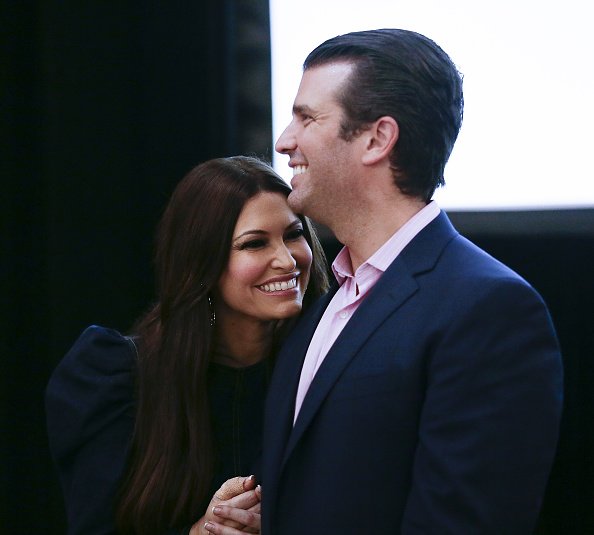 Kimberly Guilfoyle and Donald Trump Jr. at a Ted Cruz Rally at the Lone Star Convention Center on October 3, 2018 | Photo: Getty Images
He enjoyed a chill time at the slopes with his girlfriend, Kimberly Guilfoyle, and three of his five children, and also spent part of his mini-vacation practicing his shooting.
Using popular social media site, Instagram, he shared some details about his trip. He was pictured displaying his high precision .22 rifle, customized with his initials, the American flag and his father's famous slogan "Make America Great Again."
Besides that, Trump Jnr. shared pictures of his kids, one of which showed his 11-year-old daughter, all dressed up to participate in a skiing competition.
"Great afternoon with @KaiTrumpgolfer on the slopes for her race. Great work Kai, I'm very proud of you," - he captioned a picture of himself and his daughter.
In a cute family photo, the doting father expressed his pride in Chloe, and particularly in his son, Donald Trump III, at how he is improving in his skiing.
Not to be left out, Trump Jnr, shared a picture with Kimberly who wore dark glasses and a gray hat on top of a hooded coat. In the selfie, she was held firmly by her boyfriend who donned an army jacket, a green hat and sported a thick beard.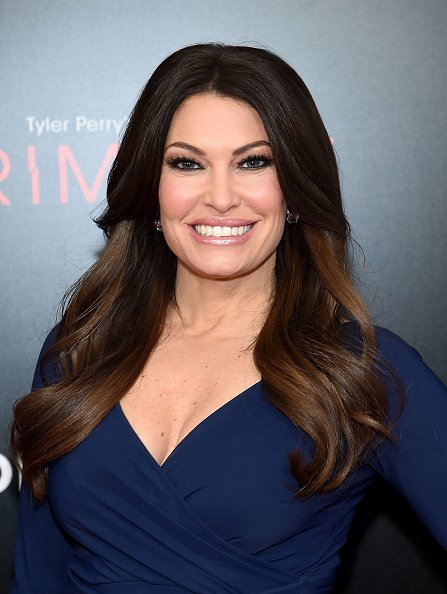 Kimberly Guilfoyle attends the 'Acrimony' New York Premiere on March 27, 2018 in New York City | Photo: Getty Images
One could say Trump Jnr. needed or even deserved the relaxation trip. The past week was rather hectic for him as he was busy defending the President over several issues of nationwide significance.
The most extended government shutdown in the history of the country was put to a temporary end on Friday, with President Trump approving a stopgap spending bill to end the closure for the next three weeks.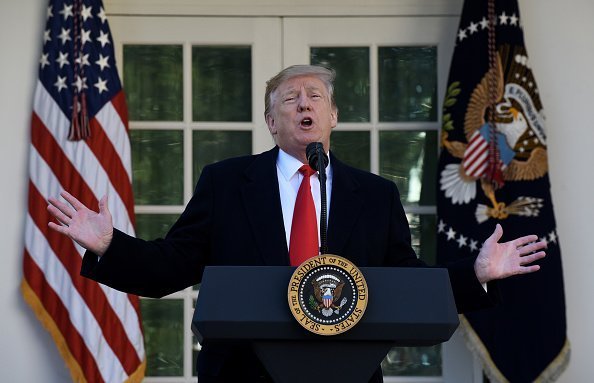 US President Donald Trump during an event in the Rose Garden of the White House January 25, 2019 | Photo: Getty Images
Another occurrence which the President could not avoid was the indictment of Roger Stone, a longtime Trump adviser, by Special Counsel Robert Mueller for lying and tampering with witnesses in the investigation into the improprieties of the 2016 presidential elections.
The week before, Trump Jnr. defended his father when a report claimed that the President's former lawyer lied to Congress on Trump's behalf.
Please fill in your e-mail so we can share with you our top stories!