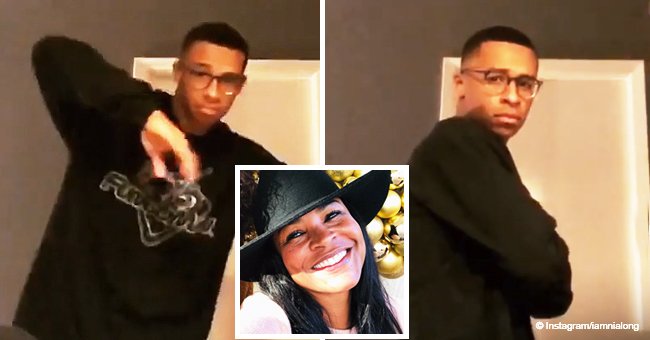 Nia Long's eldest son is all grown up and shows off crazy dance moves in new video shared by mom
Nia Long's teenager son, Massai, is showing off his best dance moves in a new clip shared by the actress on Instagram.
The hilarious 17-year-old is proving he's not afraid of acting silly in front of the camera in a clip shared by his proud mom.
Massai wore a long-sleeve black shirt, gray sweatpants, and black-rimmed glasses while showing off his crazy dance moves to Outkast's hit song "B.O.B" in an enclosed space that looks like his bedroom.
"Let's get it Tuesday. Look at my baby @massaidorsey," Long captioned the post.
Fans took over the comment section to gush about much Massai has grown, how tall he is gotten and how handsome he is. "He gets it from his mama," wrote one fan.
MASSAI'S DEBUT ON SCREEN
Massai's natural charm on camera gave him the chance to make his debut on the big screen when he was 12-year-old. He starred alongside his mother in Tyler Perry's film "The Single Moms Club," giving life to Nia's character's son.
The boy had to send his audition tape like every other applicant, and even though Long was nervous about her son not getting the role, her fears were unfounded, and his efforts paid off. "He earned it. It was really important for me that he earned it," Long told Mom.me. And continued:
"I think it's especially important for young kids to see how much power they can have in their own lives by doing the work to earn something. And just because I'm an actress and I'm his mom, this wasn't handed to him."
Nia also revealed that she isn't going to impose anything on her son about staying in the industry forever. She said:
"I think it's really super-important to expose your kids to all things positive and let them decide where their passions lie. The more you can expose your children to, the more options they have. And you give them the room to discover their passions, and hopefully, they manifest into something wonderful."
After his first stint on the screen, Massai has stayed out of the spotlight.
He is a high school senior enjoying life like any other teenager, and recently joined his mom and little brother to feed homeless people working alongside the Los Angeles Mission feeding scheme.
PART-TIME SINGLE MOM
Nia shares Massai with former partner Massai Dorsey, but after their split, the 47-year-old actress considered herself a single mom because even though Dorsey was still involved in their son's life, the daily decision-making was entirely on her shoulders.
At least, until she met pro basketball player Ime Udoka, her longtime fiancé and the father of her second son, Kez, whom they welcomed in 2011.
Since then, Long has described herself as a part-time single mom because, despite their commitment to each other, work keeps Nia and Ime apart most of the time, as he serves as assistant coach for the San Antonio Spurs.
Nia is currently part of the of "NCIS: Los Angeles" cast, where she gives life to Executive Assistant Director Shay Mosley. She's also working on two movies, "The Banker," and "47 Meters Down: Uncaged."
Please fill in your e-mail so we can share with you our top stories!