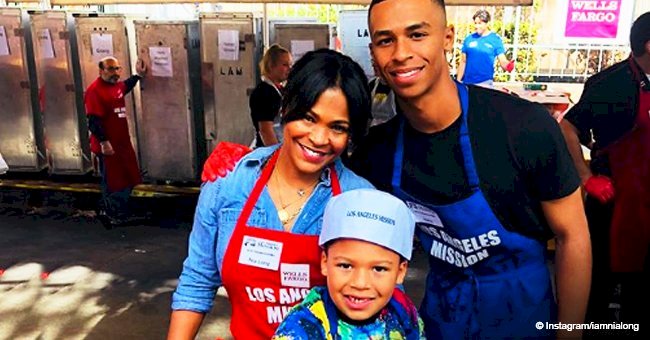 Nia Long shares photo with 2 sons helping distribute food for the hungry on Thanksgiving
Nia Long and her two sons helped distribute food for the hungry on Thanksgiving. Long took to Instagram to share pics, shown below, of the event.
American actress, Nia Long chose to spend Thanksgiving feeding the hungry. She took her two sons with her to the Los Angeles Mission feeding scheme.
In the name of Thanksgiving spirit, Long and her two sons, Massai Zhivago Dorsey II and Kez Sunday Udoka, joined a number of other celebrities at the Los Angeles Mission food drive. The annual initiative feeds thousands of homeless people on Skid Row Thanksgiving meals.
Nia took to Instagram to post about the initiative. She expressed her happiness and thankfulness that the initiative gave her a chance to make a difference in people's lives.
"Thank you @thelamission for inviting us to volunteer today. It was our pleasure to serve healthy meals to those in need. Today we are thankful for making a difference. HAPPY THANKSGIVING, " wrote Nia.
Her two boys smiled in the pictures of the event. They looked like they were enjoying the experience of spreading Thanksgiving spirit and helping out. Fans commended Long both for giving back to the community and for teaching her sons the importance of charity work.
@tre.fuller said, "Happy Thanksgiving to you and your family and thank you for giving back."
The "Single Mom's Club" actress, is definitely a proud mama. She recently praised her sons with specific focus on her oldest son who she acted alongside.
In a recent interview, Long spoke about her son saying, "I can tell you how he supports me. There are days when he's really helpful, and there are days when he's just a kid. And I want him to know how to do his own laundry, I want him to know how to take out the trash, I want him to understand accountability and responsibility, and sometimes that means allowing your kids to make mistakes where they can feel it rather than just hear you talk about it—the pitfalls, the wins and the losses."
In 2012, she had revealed that the birth of her second son made her the "happiest" she has ever been in her life. Long continued saying "It's funny because I haven't done a film since Mooz-Lum, so I'm very ready to get back to work. I thought that I was, when I was feeling well, and I had this surge of energy."
@carenmax888 said, "That's why I follow you! Great values!! Happy Thanksgiving to you and your beautiful family!"
Please fill in your e-mail so we can share with you our top stories!