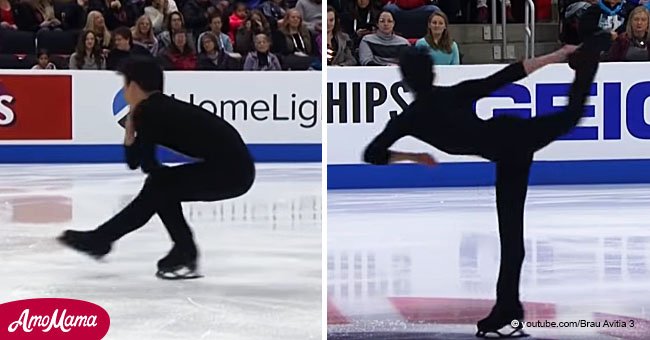 Skater bewitches crowd with his flawless routine, taking his 3rd consecutive gold medal

Nathan Chen performed "near perfect" routines during the US Figure Skating Championship to bag his third consecutive gold medal.
Fellow competitors stood no chance on Sunday, January 27, when the "quad king" took to the ice with his characteristic swagger and flawless technique to earn the top spot with two routines at this year's National Championship.
During his freestyle routine set to "Land of All" by Woodkid, Nathan perfectly executed a technically difficult routine with a quadruple lutz and three more flawless quad jumps.
Commentators were speechless as Nathan energetically moved over the ice, noting that "he makes it look so easy!"
Nathan's short routine was equally impressive as a commentator referred to it as a "shot of adrenalin straight to the heart" once he started his routine to 'Caravan' by Fanfare Ciocarlia.
The 19-year-old impressed with a quad flip, followed by two consecutive quad jumps as he seemingly floated over the ice.
The prodigy from Salt Lake City, Utah ended the competition with a total score of 343.22, with a massive gap of 58 points between himself and the silver medalist, Vincent Zhou. Nathan scored exceptionally high with technical aspects, for which he scored 228.80.
Astonishingly Nathan's combined total score was higher than the scores of 14 out of the 20 competitors combined!
Seemingly more at home on the ice than anywhere else, Nathan tripped over the rug situated on top of the ice rink as he headed to the podium to receive his gold medal.
In the women's division, a tiny 4'7" girl packed a considerable punch when she skated herself into the history books to take gold.
Alysa Liu may be only 13 years old, but her passion and talent on the ice are unmistakable. As the youngest skater to ever win gold in the women's division, she dethroned Tara Lipinksi, who became the national champion at the age of 14.
Her entry into the history books did not stop there as she landed two triple axels during her routine. The only female ever to land two triple axels in one routine, with this she also became one of only four women to land a triple axel during a competition and joined Tonya Harding, Mirai Nagasu and Kimmie Meissner in the exclusive club.
Combine two phenomenal skaters, Scottish dancing and a fabulously choreographed routine, and the result would be the talented Scottish brother and sister pair, John and Sinead Kerr.
As the siblings performed a risky dance-inspired routine to "Auld Lang Syne," they effortlessly performed complicated moves as the crowd excitedly cheered them on. Their unique performance during the 2008 World Championships was genuinely breathtaking as one can see in the video:
Please fill in your e-mail so we can share with you our top stories!