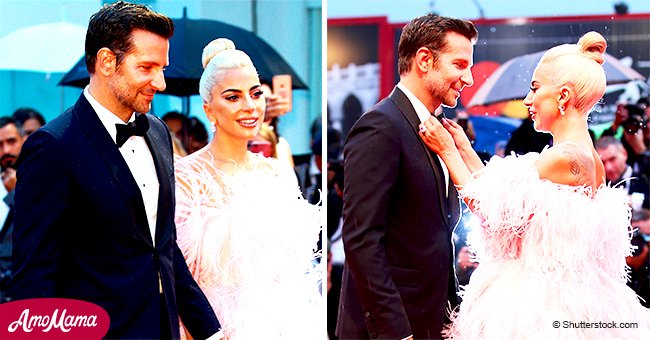 Body language expert analyzes Lady Gaga and Bradley Cooper's behavior
Since working together on 'A Star is Born,' Bradley Cooper and Lady Gaga's chemistry is unmistakable during public appearances, but is there more to their relationship?
With Hollywood award season in full swing, Bradley and Lady Gaga often appear together in interviews, award ceremonies and other public appearances in promotion of their new movie, 'A Star is Born.'
Whenever the two are together, their public show of affection and obvious mutual adoration is hard to miss as they light up in each others company.
But they are both currently in relationships, as Bradley Cooper and his supermodel girlfriend, Irina Shayk started dating back in 2015, and since became proud parents of daughter Leia.
While Lady Gaga looks smitten with her new boyfriend, the agent Christian Carino, they are often seen on the red carpet together.
During Lady Gaga's January 26 concert as part of her Enigma residency in Las Vegas, Bradley made a surprise appearance where they pair performed the award nominated song, 'Shallow' together.
On stage, their special relationship was plain to see as they performed the hit song together with relaxed intimacy.
During interviews, they frequently rave about each other's talents and capabilities without hesitation in showing their mutual affection.
Meanwhile, body language expert, Blanca Cobb analyzed the pair's award season behavior and came to an unexpected conclusion. According to Cobb, Bradley and Lady Gaga's relationship is just platonic as she elaborated:
"There's a distinction in the way that they are holding hands. What they are doing is they are 'cupping' palm to palm which is very different from when fingers are interlaced. Fingers are interlaced, you generally see that more with romantic couples."
But during the 2019 SAG Awards, Bradley surprised when he showed up with neither his girlfriend Irina nor Lady Gaga, but with another woman entirely.
Proudly by his side, Bradley's mum, Gloria Campano accompanied him for the evening. The mother and son were all smiles as they posed together on the red carpet for the special event.
And even though Bradley did not walk away with any honors that evening, it was evident how proud Gloria is of her handsome and talented son.
With Bradley Cooper directing and starring opposite Lady Gaga in their multi-award nominated film he did, however, put his foot down regarding one detail in the movie.
During an interview on the 'Graham Norton Show,' Lady Gaga shared that Bradley insisted she dye her hair back to its original color, but that was not all, as she said:
"I tried to sneak some make-up in, but Bradley wouldn't go for it…"
Wanting Lady Gaga to personify her character as a struggling artist, she was not allowed to wear any makeup. And it was worth it, as the movie received many acclaimed nominations, including 8 Academy Awards, which comes to our screens in February 2019.
Please fill in your e-mail so we can share with you our top stories!