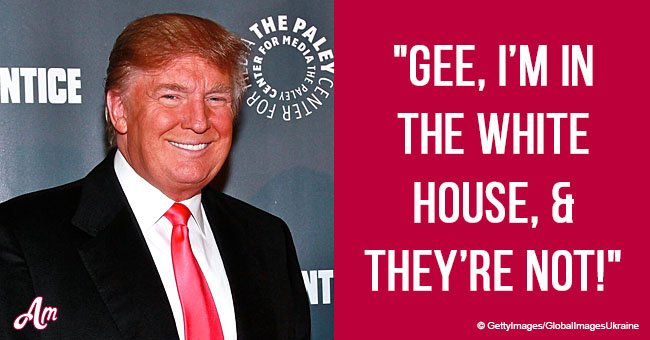 'Gee, I'm in the White House, & they're not!': President took to Twitter to slam his critics

President Trump decided to address the endless slew of criticism he receives with a now-viral tweet, shown below.
The 45th president of the United States of America, Donald Trump has always been controversial. From sexist remarks about grabbing women to his stance on immigration laws in the US, he knows how to create chaos.
Needless to say, he is often on the receiving end of harsh criticism. In light of the longest government shutdown in US history, Trump has been under even more criticism than usual and decided to hit back with a response of his own.
The partial government shutdown had hit the 35-day mark before it ended. It topped the previous record of 21 days, set under President Bill Clinton in 1995-96.
The shutdown had been caused by the House disagreeing on the funding Trump needed to build a wall at the southern border. During the shutdown, nearly a million federal employees were not paid for their services. The shutdown finally ended on January 25 with a three-week measure put into place.
During the time, Congress and the President are engaging in discussions to solve the issue and avoid another shutdown. However, many felt the president was too focused on his own agenda.
His recent tweet had the opposite effect than he initially intended. Many used it as an opportunity to ridicule the president more.
"Adding arrogance and smugness to his many terrible qualities," read one tweet.
Earlier this year, Trump was snubbed by NFL players. The Golden State Warriors had refused to visit President Trump at the White House.
Instead, they had a private visit with Barack Obama while they were in Washington D.C. Two of their players spoke out against the current president and one refused to ever visit him.
Their refusal to visit the White House goes against several decades of tradition. In retaliation, Trump had publicly withdrawn the White House invitation to the NBA champions in a Tweet.
"Going to the White House is considered a great honor for a championship team. Stephen Curry is hesitating, therefore invitation is withdrawn!" he wrote.
As expected Trumps response was met by an instant backlash. The NBA players hit back with harsh words for the current president.
"U bum @StephenCurry30 already said he ain't going!" LeBron James wrote on Twitter. "So, therefore, ain't no invite. Going to White House was a great honor until you showed up."
Please fill in your e-mail so we can share with you our top stories!