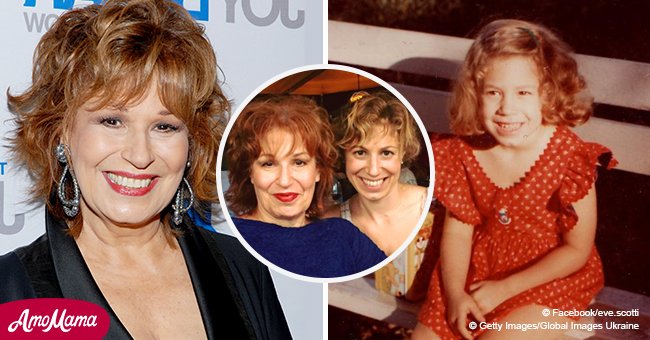 Joy Behar's daughter is 48 years old now and she looks like her mother's twin

Joy Behar's daughter is practically her twin. The 48-year-old is looking more and more like her mum as the years go by.
The popular American comedian, writer, and actress, Joy Behar brought her daughter, Eve Behar up as a single parent. Joy got divorced from her husband Joe Behar in 1982.
She lived with him for around 17 years before they divorced. In the early 80s, the veteran co-host of The View became a single mother and became known for her stand up comedy. She managed to balance career and motherhood.
Now her stunning daughter is 48 years old. Fans agree that Eve bears a striking resemblance to her mother.
Eve recently posted a gorgeous pic with her mother to wish her mum happy birthday. Fans were blown away by how much she looks like her mum.
"Awww Happy Birthday! I never noticed until now how much you look alike. Yup you look like your mama ALL DAY, from the eyebrows to the baby hair," wrote one fan.
However, unlike her mum, Eve chose a quieter career. She chose to stay out of the spotlight and works with ceramics instead.
She holds a certificate in ceramics from the Studio Arts Centers International in Florence, Italy. She also has a diploma in crafts and design from Sheridan College Institute of Technology and Advanced Learning in Oakville, Ontario.
According to Eve's official website has a ceramics studio practice at home in Sag Harbor. The site also reveals that she enjoys potting next to the beach while surrounded by beautiful nature.
Eva is also a mother. She has one son, Luca who was born on February 2011 whom she shares with her husband Alphonso Anthony Scotti.
Joy was super excited to become a grandmother. She now tries to spend as much time with her grandson as possible.
Eve and Anthony, a physician assistant in the emergency room of Beth Israel Medical Center in Manhattan, tied the knot in September 2007.
Please fill in your e-mail so we can share with you our top stories!