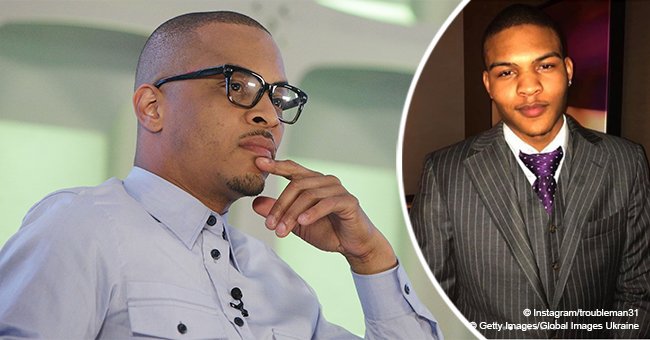 T.I. brings tears to eyes with moving tribute to his first born son on his 19th birthday

Rapper T.I. Harris took to Instagram to share a touching slideshow to honor his first-born son, Messiah Harris, on his 19th birthday.
The first image of the compilation was probably the most adorable one as it showed T.I. almost 19 years ago sleeping a couple of inches away from baby Messiah. Even at that age, it was evident how similar they were.
For the rest couple of pics, Messiah appeared as a grown-up young man already posing alone or next to his famous father. Their resemblance is uncanny, especially when they smile.
T.I.'S CAPTION
While the photos were striking, the aspect that attracted more attention about the post was T.I.'s caption as he wished Messiah a happy 19th birthday and thanked him for "truly" changing his life.
The man addressed his dark past, saying that he was "selling crack" on the streets when Messiah's mother, Lashon Thompson, told him she was pregnant. By the time the boy was born, T.I. was signed and working on his first album when the boy was born.
"I accredit you for changing my life son...and for that... I THANK YOU!!! With love and support 4LIFE!!! You were the perfect kid in school and at home. Can't wait to see where your journey as a man may lead you.... just know that I'll be there for you every step of the way," [sic] finished the rapper.
Soon after posting that touching tribute, T.I.'s followers took to the comment section to share their thoughts.
"He is so handsome like his father, happy birthday young man!" admitted a follower.
"Haha this man never get old, you both look like brothers not father and son, jah bless," [sic] pointed out a second user.
"The older he gets the more he looks like you esp. the mouth and eyes!" said another person.
T.I.'S CHILDREN
T.I. has had six children with different women: Messiah, 17-year-old Domani, 17-year-old Deyjah, 14-year-old Clifford, 10-year-old Major, and two-year-old Heiress. The rapper's longest and most stable relationship has been with Tiny Harris, with whom he had Clifford, Major, and Heiress.
Before being with Tiny, T.I. was in a relationship with Deyjah's mother, Ranniqua; and Domani and Messiah's mother, Lashon Thompson. Apart from them, the rapper is the step-father of Zonnique Pullins, Tiny's daughter from a previous relationship with Zonnie Pullins.
HEIRESS' SPANISH SKILLS
Heiress, T.I.'s youngest daughter, has melted people's hearts ever since she was born. In a recent video, the girl showed off her Spanish-speaking skills by repeating some Spanish sentences, and her pronunciation is on point for her age.
"Me llamo Heiress ¿Cómo estás? Yo soy bonita," said the girl, which translates to, "my name is Heiress. How are you? I am pretty." For the caption, the proud mother set clear that they were "working on her being bilingual" and even trilingual.
Please fill in your e-mail so we can share with you our top stories!