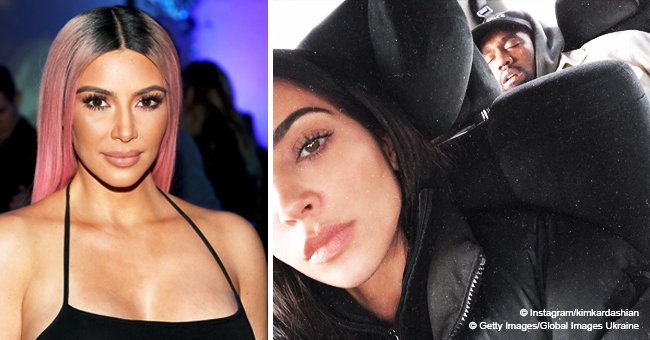 Kim Kardashian makes headlines after sharing candid photo of Kanye West sleeping
Kanye West looks tired after a long day jamming to church songs with a gospel chorus and his daughter North, and Kim Kardashian made sure to share it with fans on Instagram.
The wide-eyed reality star snapped a pic focusing on her husband slumped in the back seat of a car, with his mouth wide open and fast asleep.
"SAME," Kim captioned the pic, indicating that although she was wide awake, she felt as tired as the father of her kids.
The couple spent their Sunday morning singing with a huge gospel chorus and some friends in a place filled with neon lights.
Kim took to her Instagram stories to share several videos of Kanye and their daughter North sitting at the front of the crowd, as the 5-year-old stole the show fearlessly singing and leading her group of friends while wearing a neon green outfit.
A NEW ADDITION TO THE FAMILY
Kim and Kanye clearly have tight schedules, and parenting three kids on top of their business endeavors must be exhausting for the power couple. But that's not stopping them from enlarging their family, as they announced last month that they are expecting a fourth baby via surrogate, a little brother for North, 5, Saint, 3 and Chicago, 1.
Kardashian confirmed the news on her visit to Andy Cohen's "Watch What Happens Live" a few weeks ago, taking her sister Kourtney by surprise as she decided to share not only the gender of the baby but also that her surrogate's due date is "sometime soon."
"I always knew surrogacy was an option. Now it's my reality."
It seems like North's wish of having another boy in the family came true, as Kim revealed on Ashley Graham's podcast last year that North was fed up with her little brother Saint:
"She said to me the other day, 'Mom, we just need to have another baby brother so that Saint can just leave me alone, so the girls can be on this side of the house and the boys can be on that side of the house.'"
This will be the couple's second baby via surrogacy following daughter Chicago.
PREGNANCY STRUGGLES
Kardashian decided to give surrogacy a chance after her doctor warned her of the dangers she could face if she went through another pregnancy after giving birth to Saint.
The 38-year-old star was diagnosed with a condition known as placenta accreta, which happens when part or all of the placenta remains connected to the uterine wall after childbirth.
After North's birth in 2013, Kim opened on her blog about the terrifying experience, writing:
"My doctor had to stick his entire arm in me and detach the placenta with his hand, scraping it away from my uterus with his fingernails. My mom was crying; she had never seen anything like this before. My delivery was fairly easy, but then going through that — it was the most painful experience of my life!"
In a 2016 episode of "Keeping Up with the Kardashians," Kim obstetrician told her:
"You never know if you might have the same type of problem that could be more serious this time … You're always taking a little bit of a chance. There are situations where retained placenta could be life or death."
Although she had her reserves about surrogacy at first, Kim ended up embracing the process. "After talking to Kanye … I always knew surrogacy was an option. Now it's my reality … Whatever is meant to be will be," she concluded on the show.
Please fill in your e-mail so we can share with you our top stories!