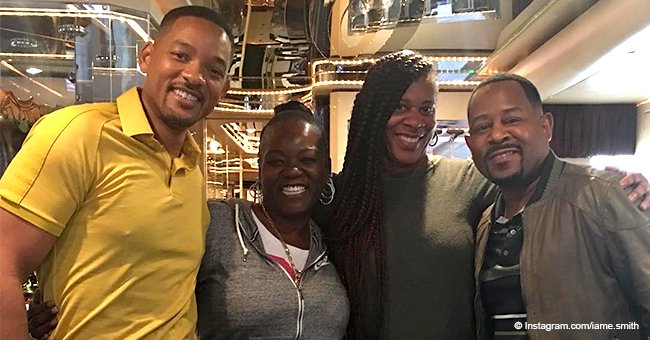 Will Smith & Martin Lawrence bring their rarely-seen sisters & nieces to 'Bad Boys 3' set
Will Smith and Martin Lawrence have been working in the third part of the highly acclaimed "Bad Boys" for a while. Some members of their family visited them on set.
Ellen Smith, one of Will's sisters, took to Instagram to share the photos of the rare visit. One of them portrayed both actors flashing their smiles at the camera posing next to Will's mother, Caroline Bright.
ELLEN'S DAUGHTERS WITH MARTIN
In another post, Ellen's youngest daughter appeared next to Martin clearly happy of being with him, something that Ellen confirmed in the caption as she wrote that her "baby" wanted to meet the actor and that Ursula, his sister, made it happen.
Skylar, Ellen's second daughter, also posed next to Martin while in the set of the movie, located in Atlanta, Georgia.
MORE BEHIND-THE-SCENES PHOTOS
Apart from those photos, Ellen uploaded another one portraying her next to Will, Ursula (Martin's sister), and Martin. For the caption, the lady wrote that the real Bad Boys were next to their sisters, "the real Bad Girls."
In another photo, Ellen was smiling next to actor Sean Lampkin, best known as Nipsey, the owner of Nipsey's Lounge in the TV series "Martin."
Finally, Ellen shared a slideshow wherein she was posing with her mother and actress Theresa Randall, who played Martin's wife Theresa Burnett in the first "Bad Boys" movies.
DETAILS ABOUT THE FILM
Even though there were several rumors about a new "Bad Boys" film, nothing had been officially announced up until November 1, 2018, when Will and Martin recorded a video thrilled saying that it was official and that "Bad Boys three is happening."
After that, both actors have uploaded different clips and photos addressing the shooting of the movie but, of course, they have not revealed many aspects of it.
So far, all it's known is that they are working in Atlanta, that the budget is reportedly $100 million, and that it is expected to be released in early 2020.
The plot has not been revealed yet. However, LAD Bible reported that Mike (Will's character) would be going through a mid-life crisis after being matched with a newer, younger partner. Marcus (Martin's character), on the other hand, is working as a private investigator.
Please fill in your e-mail so we can share with you our top stories!