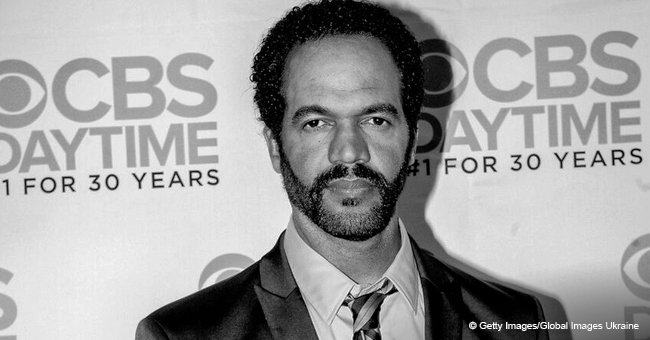 'Young and the Restless' star Kristoff St. John passes away at only 52
52-year-old actor Kristoff St. John's sudden death is believed to have been caused by an overdose of alcohol.
Fans of "The Young and The Restless" will be saddened to know that the actor who played Neil Winters on the show for 28 years has passed away.
Kristoff St. John was discovered by a friend lifeless in his home in the Woodland Hills area with the investigation pointing at a possible alcohol overdose. No foul play was reported. Paramedics rushed to the scene but pronounced him dead instantly.
The 52-year-old actor who began his career as a child star in the series "That's My Mama" was engaged to model Kseniya Olegovna Mikhaleva at the time of his death. They intended to marry in the fall. He is survived by his two daughters, Paris and Lola from his two ex-wives, Mia St. John and Allana Nadal.
A HISTORY WITH MENTAL HEALTH ISSUES
St. John was reported to have been battling mental health issues after the death of his 24-year-old son, Julian St. John who committed suicide in 2014. Julian was diagnosed with schizophrenia when he was 18.
In 2017, St. John sought psychiatric treatment after he reportedly threatened to kill himself with a gun around the date of his son's death anniversary. In a statement to the media following news of his attempted suicide, Julian's mother, Mia shed light on his torment.
"No parent should ever have to bury their child, and for those who do, it is a nightmare that haunts you forever. The death of our beloved son Julian has taken a toll on both of us. He is an actor and while he may appear whole on the outside, his heart is broken. As a society, we need to start taking mental health seriously and realize that no one is immune."
After their son's death, St. John and Mia sued their deceased son's psychiatric facility for negligence. They eventually settled out of court. They later created the El Saber Es Poder (Knowledge is Power) Foundation to help battle mental illness.
Two weeks before his passing, St. John retweeted a message that seemed to clue in on his state of mind at the time.
"Grieving the loss of a child is a process. It begins on the day your child passes, and ends the day the parent joins them."
He replied to the tweet by writing,
"Never a truer word was spoke. Thanks for posting this."
In early January, he checked himself into the UCLA Medical Center to treat his depression. He was released just a few days before his passing.
In her anguish, Mia blamed the hospital for St. John's death. In an emotionally charged tweet that has now been deleted, she wrote,
"THAT HOSPITAL KILLED OUR SON THEN MY HUSBAND. THAT'S WHAT HAPPENED! THEY KILLED MY FAMILY."
REMEMBERING AN ACTOR AND FIANCE
Meanwhile, CBS Television Network and Sony Pictures Television issued a joint statement paying tribute to St. John's life as an actor.
"The news of Kristoff St. John's passing is heartbreaking. He was a very talented actor and an even better person. For those of us who were fortunate enough to work with him on 'The Young and the Restless' for the last 27 years, he was a beloved friend whose smile and infectious laugh made every day on set a joy and made audiences love him. On behalf of the Y&R cast and crew, CBS and Sony Pictures Television, we offer our heartfelt sympathy to his family and loved ones, especially his two daughters, Paris and Lola."
His fiancé also mourned his early passing on her Instagram story and shared a photo of the two of them.
"So early…so early. Why are you leave so early? Why…you are always in my heart."
"How did it happen ??? How ??? Why did you leave so early ???? and left me alone ..... I can't believe you were everything to me .... you were a loving father, a loving man,.....how."
His lawyer, Mark Geragos who confirmed the news of his death described the 9-time Emmy nominee as one of few men who had "unique strength, courage & sensitivity."
"He impacted everyone he met and millions who he inspired and in turn admired him," he added.
HIS LEGACY IN TELEVISION
St. John led a busy career on television. In his childhood, he featured in the miniseries "Roots: Next Generation." As he got older, he appeared on "Happy Days" and on "The Cosby Show" as Denise Huxtable's boyfriend. He was also on the soap opera, "Generations."
In 1991, he joined the cast of "The Young and the Restless." In 2008, he won an Emmy for best supporting actor for his role in the soap. He also won 10 NAACP Image awards throughout his career.
St. John was last seen publicly on Sunday morning in a commercial for the Super Bowl. He appeared alongside his soap opera co-stars.
An autopsy is scheduled for Monday to determine his actual cause of death.
Please fill in your e-mail so we can share with you our top stories!