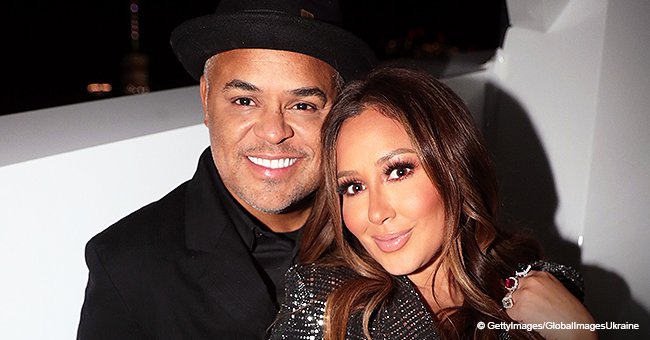 Adrienne Bailon's husband Israel Houghton shuts down haters who came for wife's fertility issues
There's not a doubt that Israel Houghton is born again and loves the Lord, but if you talk negatively about his wife he will not hesitate to set you straight.
"My wish for next year would be to start a family." That is what Adrienne Houghton, née Bailon, told "The Real" audience during one of the Christmas episodes in 2017. "That would be my biggest dream come true. I've always wanted to be a mom. So… prayers up and we will see what happens."
Sadly, that dream has not yet become a reality for Adrienne and Israel, who had been married for a year at that time. Towards the end of 2018, Adrienne had a candid conversation on "The Real" and revealed her struggles to become pregnant.
"I've always had a really chubby face so that's not what it is," said the former Cheetah Girl after speculation about whether she was pregnant because her face reportedly looked fuller. Adrienne went on to reveal that she had come to terms with the fact that not everyone gets pregnant right away, and people should learn to be sensitive to that.
"I can be as youthful as I want on the inside and in my heart, but my ovaries are what they are."
During an interview with OK Magazine in December of last year, Adrienne was quick to point out that there was nothing wrong with her body. "I do want to clarify, I don't have fertility issues," stated the former "3LW" member. "I think it is important [to say that] because that's a really serious thing."
"Everyone's journey to having a baby is not the same."
Adrienne also disclosed what she and her husband are doing to stay positive, saying that "there's a plan and purpose and everything's going to work out exactly as it's supposed to." She revealed that she draws strength from women like Gabrielle Union and Carrie Underwood, who have open about their own struggles to become mothers.
"PLEASE DON'T DO THAT."
Just a few days ago while on "The Real", Adrienne admitted to her co-hosts and the audience that at one point she and Israel almost stopped trying to have a baby after they didn't manage to conceive as per their timeline.
"It didn't work out that way," confessed the singer. Adrienne went on to talk about the pressure she had put on herself to try and control when she would get pregnant so that she wouldn't miss work.
While many appreciated Adrienne's honesty, there were some who were quick to slam her. Instagram user mdarcy429 got really catty as she said, "Adrienne motorlienmouth[sic] needs ATTENTION today. You know you have issues in having a baby. Your[sic] just lien[sic] to everyone. We know you very well. Phony loca."
Israel proved that chivalry is not dead when he stood up to the internet bully. "And how long have you known her?" said the singer. "Please don't do that. Thanks. Figure out who you are. God Bless you as you go."
"ADRIENNE IS A WOMAN OF INTEGRITY AND CHARACTER."
This is not the first time that Israel has defended his wife from salacious gossip. Adrienne and Israel were spotted together on a Mexico vacation just one month after he announced his divorce from his wife of over 20 years.
The two were spotted getting cosy, leading to rumors that "The Real" co-host was the reason behind their split. Israel took to Facebook to defend his then girlfriend's honor and talked about his divorcing Meleasa.
Israel said "I do" for the second time in November 2016 as he wed Adrienne in an intimate Paris wedding. Though they still have no children together, Israel has two daughters and two sons from his first marriage.
Please fill in your e-mail so we can share with you our top stories!