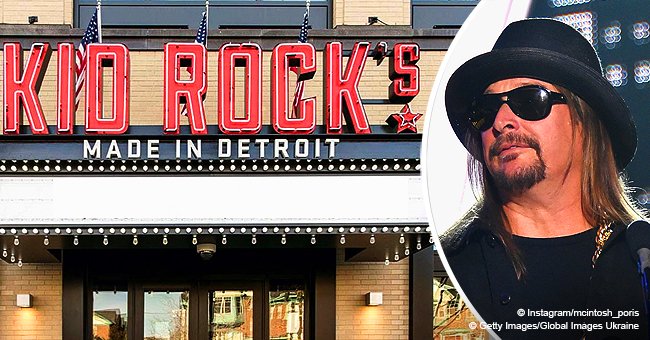 Black bartender accuses Kid Rock's restaurant of racism after she was fired for sporting an afro

Kid Rock's restaurant is facing a racial discrimination lawsuit after its bartender claims she was fired due to her natural hair. Kid Rock responds by slamming the publication that released the story.
An African American woman is suing Kid Rock's restaurant for alleged racism. The woman who works as a bartender at the singer's Made in Detroit establishment at Little Caesar's Arena claims she was fired after she wore her hair in an afro for the first time.
DETAILS SURROUNDING HER LAWSUIT
Carinne Silverman-Maddox filed her federal lawsuit this week stemming from her termination on October 13. She said her employers suspended and eventually dismissed her after over-pouring a drink but believes it was a scapegoat for their real issue with her – her skin color and her hair. Silverman-Maddox claimed the day she was suspended was the first day she decided to go to work with her natural hair – a curly afro.
In her court documents, Silverman-Maddox detailed the events that transpired on the day she was suspended. She said she argued with her managers over their accusation that she over-poured a drink. She denied doing it in purpose. She said she poured the drink the way they were trained but they would often over pour due to poor measuring devices. She also said it was part of their training to "free pour drinks heavily" especially when Kid Rock was around.
ON BEING UNFAIRLY DISMISSED DUE TO HER RACE
Silverman-Maddox who never received a negative comment regarding her job performance in the past also provided reasons for doubting the motives behind her termination. She cited previous cases of her other white co-workers who were also caught over-pouring drinks but were not terminated.
She likewise cited cases when her predominantly white co-workers (she's the only African American among a staff of 15) would violate company policies such as the failure to check customer ID's and would only get a verbal warning.
She also alleged that her abrupt dismissal was a form of retaliation after she filed a complaint with the Michigan Department of Civil Rights after her suspension. Her attorney sent a letter to her employers informing them of her filed complaint. This eventually led to her dismissal from the company.
KID ROCK'S INVOLVEMENT IN THE CASE
Kid Rock was not directly named in the racial discrimination lawsuit but several companies connected to him were, including Bobby Moscow LLC, his company that owns Made in Detroit, and Top Dogg Records, his record label. Also included as defendants in the lawsuit are Delaware North Companies and its subsidiary Detroit District Sportservice, which is the restaurant's operating partner for food, beverage, and retail.
Both Bobby Moscow and Top Dogg which were described in the lawsuit as co-owners of the restaurant did not comment when the Detroit Free Press released the story and asked for a response. However, Kid Rock did.
The singer named Robert Ritchie slammed the publication for what he deemed as "bad journalism." In a tweet, he addressed the Detroit Free Press's failure to properly investigate their story before releasing it.
"Re: Detroit Free Press.... More bad journalism. Another attempt to get cheap clicks and views. Only minor investigating instead of immediate reporting would reveal the correct facts. -Kid Rock"
Despite Kid Rock's accusations, the publication maintains it reached out to all the companies involved including Kid Rock's manager but none of them responded.
KID ROCK'S HISTORY WITH RACISM
This is not the first time Kid Rock was connected to an issue on racism. In 2017 when he opened Little Caesars Arena, protesters condemned his presence at the inauguration due to his past use of the Confederate flag during his performances. This transpired even after the singer decided when he won a Great Expectations award from Detroit's NAACP in 2011 that he would stop using the flag onstage.
OTHER RECENT CASES OF DISCRIMINATION IN THE WORKPLACE
The issue of racism in the workplace continues to be rampant despite viral stories about it that shed light on its absurdity. In the past six months, two other cases of employee discrimination in Detroit were reported.
One of these cases involved a human resource coordinator at a hotel who claimed the company banned some black employees from attending a high-profile anniversary party due to their unpolished appearance. In August, an events and promotions manager sued a brewing company for passing him up for a promotion due to his race apart from being in the receiving end of racial slurs.
JOURNALIST FIRED FOR HER NATURAL HAIR
More closely related to Silverman-Maddox's case is the story of Mississippi news anchor Brittany Noble-Jones who wrote about being fired from her job after she decided to wear her hair naturally on cam following years of keeping it straight for her newscasts. Noble-Jones claimed her boss told her that her hair was "unprofessional" and that "Mississipi needed a beauty queen" instead. She filed a complaint against her boss to her higher network executives but was eventually fired after they accused her of using a sick day to tend to her dying grandfather. Noble-Jones' account of what happened was featured on Medium, shedding light on her realities of racism in her workplace.
Please fill in your e-mail so we can share with you our top stories!