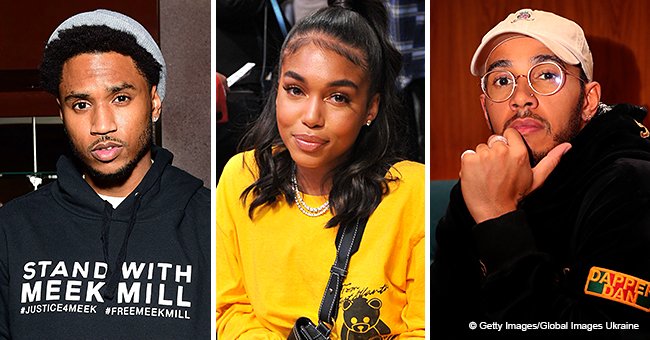 Lori Harvey reportedly spotted kissing Lewis Hamilton after deleting all pics of Trey Songz

Lori Harvey, the step-daughter of host and comedian Steve Harvey, was reportedly seen in a night club kissing the British Formula One driver Lewis Hamilton.
As Gossip of the City reported, Lori and her boyfriend, rapper Trey Songz, were in the same club Lewis was on January 31. The couple allegedly argued because Trey was flirting other women in his section.
Lewis was "available," so Lori apparently went to him and "booed up" at the club. So far, no one involved has confirmed or denied what supposedly happened on that night club.
LORI'S DECISION AND HER ALLEGED RELATIONSHIPS
However, Lori's followers on social media are starting to believe the rumor because she deleted all the photos she had with Trey from her social media accounts, what might suggest that they are no longer together.
Lori has been linked to a couple of famous names in the entertainment (and sport) industry. The lady has reportedly dated Justin Combs, Future, Meek Mill, called off an engagement with soccer player Memphis Depay, and now is linked with the Formula One driver.
As soon Gossip of the City reported Lori and Lewis' alleged encounter, several people took to Twitter to praise her.
"Yass! Trey is fine but this one is cutie! I like. They would look cute together!" pointed out a Twitter user.
"Sis is really trying to live her best life," admitted a second netizen.
"Hey Lori! I'm so proud of you sweetheart! You're doing great!" stated another person.
TREY TELLING LORI "I LOVE YOU"
Lori and Trey's possible breakup happened a couple of weeks after the singer told the lady "I love you," during her 22nd birthday. In some now-deleted posts on Lori's Instagram, the lady set clear that she spent the day with her family and the night with her then-boyfriend.
During their celebrations, Trey recorded a video that showed Lori dancing on her seat unaware of the camera. Once she noticed it, she approached it dancing, and the then-couple started laughing.
The most striking aspect of the video, though, was the way Trey captioned it as he wrote, "I loveeee youuuuuu Birthday Girl," followed by a three different kiss emoji. Another interesting aspect about their alleged breakup is that the singer has not deleted one of the photos he had with Lori on Instagram.
So far, nothing is definite in their relationship. One thing is clear, though, Lori has got the admiration of many for "playing the game men play."
Please fill in your e-mail so we can share with you our top stories!