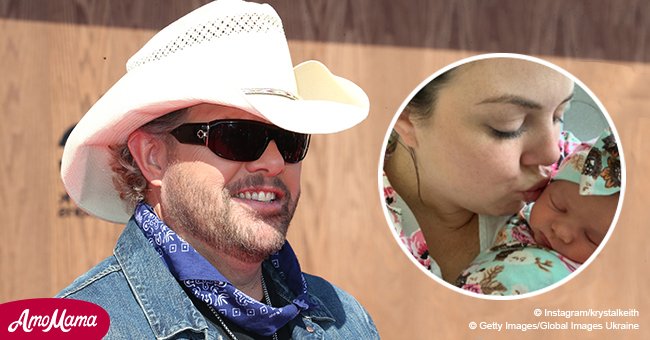 Toby Keith's daughter posted his new granddaughter's first public picture and she's so cute

Krystal Keith, one of the daughters of country music singer Toby Keith, took to Instagram to share the first image of her baby daughter.
In the post, the lady appeared wearing a grey top with a flower pattern on it kissing the girl, Kirby Kaye Sandubrae, who was asleep and wrapped in a blanket very similar to the shirt her mother was wearing.
While the photo was beautiful, the most adorable aspect of the post was the proud mother's caption. She admitted having thought she had felt love as much as she believed possible, but when Kirby was born, the "size of that love doubled."
"Welcome to the world Kirby Kaye Sandubrae. Our sweet girl joined us on Tuesday [January 29] weighing 7lbs and 14oz. We are happy and healthy. Hensley Jack is the best big sister and Drew is way out numbered with a house full of girls and wouldn't change a thing," [sic] added Krystal.
As soon as she uploaded that image, her followers took to the comment section to share their thoughts.
"Congratulations absolutely beautiful just like her mama and her Sissy," admitted one user.
"You are the most amazing mom and Drew is the BEST girl Dad! Congrats to all of you and especially to Ms. Hensley for the special Big sister role!" pointed out a second follower.
"Absolute perfection! Congrats Sandubrae family on another beautiful girl!" stated another person.
Just as Toby, Krystal is a country musician. However, her father made her complete college before pursuing a career in the industry. After finishing her studies, she released her first album titled "Whiskey & Lace" in 2013, as well as an EP in 2018 titled "Boulder."
In 2010, Krystal married Andrew Sandubrae, who made her a mother for the first time five years later. At that time, they welcomed Hensley Jack, who became Toby's third grandchild.
At the moment, the girl is thrilled fulfilling her big-sister duties, a fact that her mother has confirmed and emphasized in the post she has shared on Instagram wherein Hensley appeared hugging her baby sister.
"And then MELTED into a puddle of snuggles," wrote Krystal in the caption of the adorable post.
Please fill in your e-mail so we can share with you our top stories!