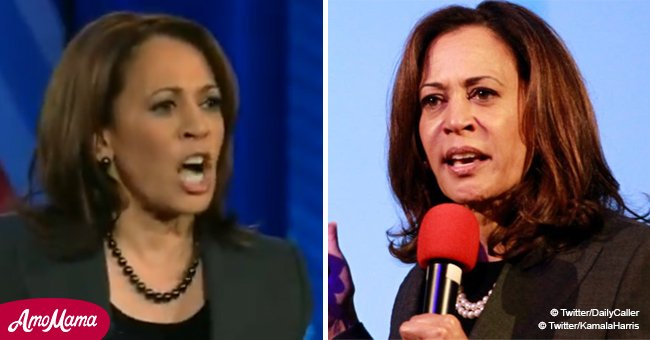 Enough is enough: Kamala Harris' passionate speech demanding an end to gun violence

Senator Kamala Harris delivered a passionate speech about ways to counter gun violence during an interview on Monday.
On February 4, Kamala Harris appeared on CNN for an interview held at a CNN town hall in Des Moines, Iowa where issues of gun control got addressed.
Kamala, who announced her presidential bid for 2020 on Martin Luther King, Jr. day, has previously been outspoken about current legislation regarding gun control and it's detrimental effects.
Shortly before Kamala announced her presidential bid, she posted an update about gun violence on Twitter:
On Monday, Kamala got asked by a member of the audience what can be done to put an end to gun violence, to which she responded without hesitation.
The senator launched into her speech by giving the example of the senseless massacre in 2012, where twenty children and six adults got killed at Sandy Hook Elementary School in Newtown, Connecticut. She warned viewers that her opinion "is going to sound very harsh," and said:
"I think somebody should have required all those members of Congress to go in a locked room – no press, no one else – and look at the autopsy photographs of those babies. And then you vote your conscience. This has become a political issue."
According to a Pew survey conducted in September and October 2018, 80% of Democrats agree that gun laws should be more strict, while 57% of the overall population agree with this statement.
But gun violence seemed to have lost its shock factor. Last week five women got shot execution style at a Florida bank, and it hardly made the news. Headlines about the partial government shutdown and announcements of those joining the 2020 presidential bid dominated, and left the tragedy without the attention it deserved.
Kamala also made it clear that her support for "smart gun safety laws" does not go against the Second Amendment as she elaborated:
"You can be in favor of the Second Amendment and also understand that there is no reason in a civil society that we have assault weapons around communities that can kill babies and police officers."
Senator Kamala suggested universal background checks and a ban on assault weapons and added that as the only obstacle, Congress lacked "the courage to act the right way."
With tighter regulations around gun control, Kamala also aims to avoid accidental shootings, like the one that happened on Saturday afternoon in Seattle, an issue she made a priority addressing in the new year as she stated in a tweet:
The 4-year-old son of an unnamed family found an unsecured and unregistered gun under the mattress in his parents' room and accidentally shot his eight-month pregnant mother in the face.
According to Sgt. Ryan Abbott, King County Sheriff's Office spokesperson, the mother got rushed to hospital with life-threatening injuries but is in a stable condition.
Even celebrities are calling for better laws regarding gun control, as Kim Kardashian expressed her concern and hesitation about having more children.
In an episode of "Keeping Up with the Kardashians" in October last year, Kim spoke about her anxiety over increasing school shootings and said:
"Just because it literally keeps me up at night thinking about how my kids will survive in a crazy world like this. Lately, there have been so many devastating school shootings. As a parent, the thought of bringing your kid to school and having them not come home because of a senseless shooting is something that definitely consumes me."
Kim, Kanye, and their five-year-old daughter, North also attended the "March for our Lives" protest that got held in Washington D.C. on March 24, 2018. By attending the pro-gun control rally, Kim said she wanted to help change the world for the better by speaking up.
Please fill in your e-mail so we can share with you our top stories!