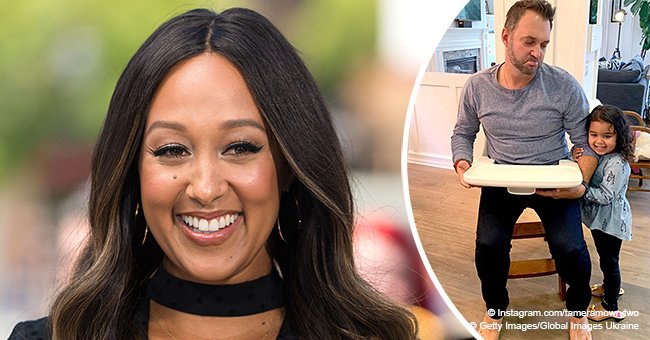 Tamera Mowry shares photo of daughter helping her dad let go of 'the last baby piece' in house
Tamera Mowry and Adam Housley's youngest daughter Ariah is no longer a baby, and she's ready to get rid of the last piece of furniture from her old baby days. Her father, on the other hand, not so much.
Tamera Mowry recently melted her fans' hearts when she took to Instagram to share an adorable and hilarious pic of her husband, former Fox correspondent, Adam Housley, and their 3-year-old daughter, Ariah Talea.
In the shot, Adam is trying, unsuccessfully, to fit into a high baby chair, sporting a big pout on his face. Meanwhile, little Ariah tries to console him, gently holding his arms with a massive smile on her face and looking all grown up with a blue shirt with unicorns, black pants, and a pair of princess sandals that she has to grow into.
Tamera explained the situation in the caption:
"@adamhousley is having a hard time letting go of the last baby piece in our house. Our Ariah is growing up."
Fans filled the comment section gushing about Adam and Ariah's lovely relationship. "Aww! That's too funny! What a silly daddy," wrote one fan. Another added, "Aww they are the cutest!! Ariah is getting SO big!" and a third one chimed in to compliment Ariah's shoes, saying "look at those heels. Too cute. Girl, she's getting so tall."
Now that Ariah is 3, and her brother Aden is 6, there's probably less crying in the Housley-Mowrey household, something that would be a relief for any mother of two.
Last year, Tamera opened to People about her parenting nightmares, saying that when both kids cry at the same time, she ends up joining them.
"It is a sound that will make you start crying," she said. And continued:
"So say they're fighting over a toy or Aden is upset with something and then Ariah gets upset with something, and then I have an important phone call, or I have to get them out of the house for school within that time … it can be very challenging, and I just sometimes throw my hands up and start crying too. We just all have a cry."
The "Sister, Sister" actress has become an example for other mothers out there, often sharing her experiences with the kids and giving helpful tips, but she doesn't try to be the perfect mom, and instead, focuses on learning from her experiences.
"I have adopted the saying, 'You are a perfect parent until you are one,'" she stated.
And amid all of the chaos and the frustrations, Tamera can always count on her adorable kids to melt her heart with their sibling-bond.
"Seeing them have a disagreement and then, without anybody saying anything, them actually taking care of each other," she recalled as her proudest moment as a mom. "Saying you're sorry, hugging it out, helping each other pick up the toys, sharing. It's always refreshing to see them do some of the things that you have taught your children many times … It's beautiful."
The kids get along pretty well, and they recently made an impromptu performance to the "Heads, shoulders, knee and toes" kids tune, before Aden picked his sister and she started giggling. The scene was recorded by their proud father and shared to Instagram, where thousands of fans praised the kids for their obvious love for each other.
Please fill in your e-mail so we can share with you our top stories!