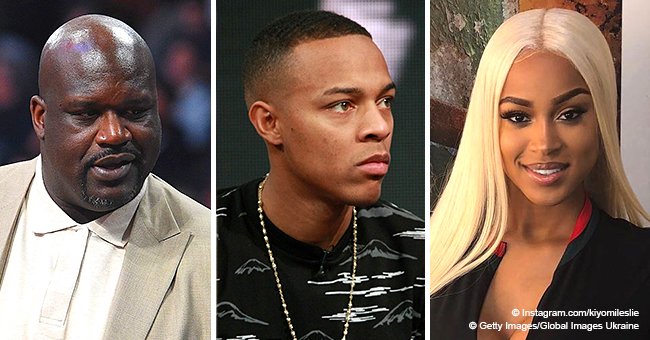 Shaquille O'Neal reportedly caught in the middle of domestic fight between Bow Wow & Kiyomi Leslie

Shaquille O'Neal is possibly the reason Bow Wow and his girlfriend fought and were arrested last weekend according to recent reports.
New reports have emerged surrounding the recent arrest of Bow Wow and his girlfriend, Leslie Holden, aka Kiyomi Leslie. According to sources, their altercation stemmed from a party where Bow Wow, real name Shad Moss, went into a jealous fit over Holden talking to another man. The man was alleged to be Shaquille O'Neal.
WHY O' NEAL APPEARS TO BE INVOLVED
The Atlanta Black Star got wind of this development from a police report it obtained. According to the document, Moss and Holden were at a Super Bowl party hosted by O'Neil Friday night. It was allegedly at the affair dubbed "Shaq's Fun House" where Moss argued with Holden over her flirtation with another man. The report's exact words based on Moss's account were,
"Mr. Moss [Bow Wow] stated that Ms. Holden [Leslie] was all over another man's body in the party. A man Mr. Moss referred to as Shaquille. Mr. Moss stated that he felt very disrespected by her behavior, that the argument became heated, that Ms. Holden started yelling loudly and calling him "bitch-ass n—–."
It was not confirmed if the man Holden was flirting with was O'Neal but witnesses spotted her and Moss at the NBA legend's party that night.
THE COUPLE'S ARREST
In the early morning of Saturday, Moss and Holden were arrested by police at 205 12th Street after they both reported being assaulted by the other.
Holden claimed Moss hit her in the head, as well as grabbed her by the hair and dragged her to the bedroom. She revealed a redness in her lower back, red marks on her right fingers and broken fingernails as a result of the attack.
Moss countered by accusing Holden of throwing a nightstand lamp at him and scratching his face. The scratches were evident in the rapper's mugshot that night.
Due to lack of more evidence proving who the actual aggressor was, both parties were held in custody for misdemeanor battery. They later posted an $8,000 bond each and by Sunday, Moss was already celebrating with Jermaine Dupri and P. Diddy at another Super Bowl party.
Neither O'Neal nor Moss or Holden have released a comment regarding this story.
BOW WOW'S RECENT MELTDOWNS
This is not the first time Moss was reported to have lost his cool in the recent months. In December, he had a meltdown on the set of "Growing Up Hip-Hop: Atlanta" due to his fear of a street gang that threatened him. Months earlier, he also blew up after producers of his show prevented him from walking Holden to her car.
Please fill in your e-mail so we can share with you our top stories!