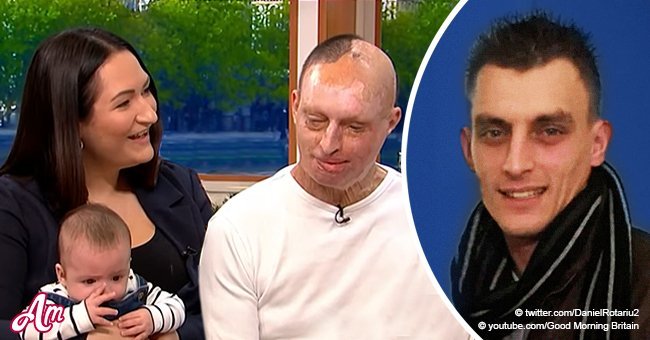 His ex attacked him with acid, but now he found true happiness with the nurse that helped him

Daniel Rotariu suffered burns in almost every inch of his body after the attack. Katie Leong left him blind after spraying the liquid.
The attack that Daniel suffered was terrible, his body suffered 96% of burns, and in addition, the victim was left blind after the incident, Daniel's life changed drastically for worse.
However there are always second chances in life, for Daniel there it was in front of him while recovering from the brutal incident that left him with a deteriorated appearance.
LOVE RETURNED TO HIS DOOR
Rotariu spent a long time in the hospital under medical treatment to heal his skin, during that time the man felt like a monster due to his ugly appearance because of the terrible burns that he suffered all over his body.
His last birthday the man spent it surrounded by doctors and nurses, but there was one of them who would end up being the love of his life.
"Two years ago I was in the hospital and I spent my birthday with the doctors and nurses. At that time, because of how I looked and my blindness, I never thought I would find someone who would love me and would like to have a family with me," Rotariu said.
The man also told how he got closer to Anna: "I was discharged in January 2017. It was a long time. They moved me to a special area where Anna took care of me. Since February of that year, we are together. Because of her work, we could not see each other much, so after a few months, we went to live together. We are happy," UPSOCL said.
NOW HE HAS TWO ANGELS IN HIS LIFE
Anna and Daniel after a while living together decided to get married, when the date approached something truncated their plans, a bigger joy, Anna was pregnant, Daniel was going to be a dad and his life changed again and now for good.
Daniel speaks proudly of his baby. "He's very adorable, he makes me very happy, I can even change his diapers."
He also explains the difficulty of his recovery: "People ask me how I do it and I tell them that I do not worry while I can go to the bathroom to urinate. For the other, it is more complicated."
Daniel's story is inspiring and is a sign that no matter how hard life can be, it always gives you the chance to be happy, just like Gessica Notaro's story. The former beauty queen is turning the eyes of the world towards gender violence.
Edson Tavares, the ex-boyfriend of Miss Italy finalist, was convicted last year for the violent attack that left the beautiful woman disfigured. But the court decided to combine the penalty with the crime of harassment, which also suffered Notaro for two months.
Tavares was sentenced to 18 years in prison after the brutal attack in January last year, but after an appeal, his sentence has been reduced to 15 years.
Currently, Notaro is a star of a show on television thanks to her appearance in a dance contest. The girl of 29 years is the flag of many ladies who suffer physical and psychological blows and are afraid, perhaps, to denounce.
Please fill in your e-mail so we can share with you our top stories!