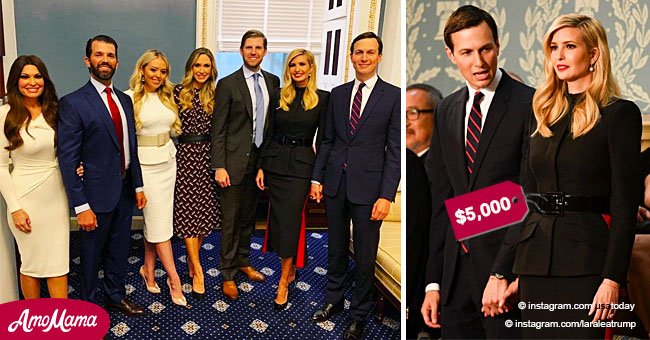 'Team Trump' kids, with Ivanka in military dress, look encouraging in photos taken before SOTU

Ivanka Trump joined the rest of the Trump family in support of Donald Trump's State of the Union address, wearing colors in stark contrast to that of the Democrats.
In a black $5,000 military style Alexander McQueen dress, Ivanka attended the address with Jared Kushner, Eric Trump and his wife Lara, Donald Trump Jr along with his girlfriend Kimberly Guilfoyle and Tiffany Trump.
Ahead of the State of the Union address, the Trump children smiled from ear to ear in a group photo, standing behind their father during the big night:
In contrast to Ivanka's dark attire, bright red lipstick, and pearl earrings, Democrats put on a united front dressed in white. While en-route to the address, Ivanka posted a short video clip to her Instagram story as she excitedly shared, "En route to State of the Union, looking forward!"
Eric Trump posted another group picture after the address at the US Capitol, just as cheerful as the one taken before the address, making sure their father knows they are proud of him:
Florida Representative and chairwoman of the Democratic Women's Working Group, Lois Frankel, initiated wearing of white colored clothes to pay tribute to those who voted in the midterm elections. In a tweet on Monday, Lois elaborated:
Tiffany Trump and Kimberly Guilfoyle wore white, while the rest of the Trump family donned dark colors. According to Lois, the dark colors were more appropriate for last year's address, as Congress member got encouraged to wear black in support of the #MeToo movement.
During his address, President Trump called on Congress to "break decades of political stalemate" as a nation divided seek to recover from "the politics of revenge."
Addressing an issue of importance to Ivanka, President Trump called for a law to mandate nationwide paid family leave for new parents, which got cheers from everyone.
However, it didn't take long before Congress became frustrated with President Trump as he demanded an end to laws permitting late-term abortions.
Melania Trump also chose a military-themed outfit for this year's address, as she showed up in a dark navy sheath dress with a leather glove on her left hand.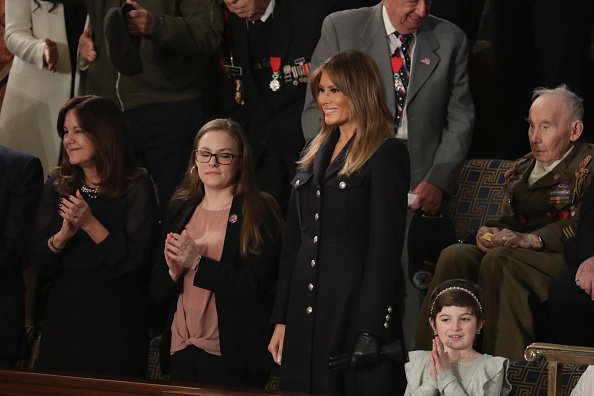 Melania Trump attend the State of the Union address on February 5, 2019, in Washington, DC.| Photo: Getty Images
Even though Melania got met with a welcoming round of applause when she entered the House chamber, many couldn't help but wonder why she only wore one glove.
People also noted that even though the color scheme for last year's address was dark in support of the #MeToo movement, Melania pitched up in an all-white pants suit, and stood in stark contrast with Democrats this year, as they, in turn, were all dressed in white.
President Trump's guests for the evening included survivors of the Tree of Life synagogue mass shooting, the former inmate Alice Johnson, the family of couple slain by an illegal immigrant and Buzz Aldrin, the astronaut.
Another special guest for the evening was Joshua Trump. The 6th grader is not family of Donald Trump but got bullied at school because he shared the same surname.
Apart from his Uncle Cody, who is his best friend and serves in the United States Air Force, President Trump is also his hero, and Joshua couldn't wait to attend the State of the Union address after a personal invite from the president.
According to the White House, only those that "represent the very best of America" got invited to attend the State of the Union address, as they stated in a tweet on Monday:
Joshua, the young student from Wilmington, Delaware, along with other guests are thankful to President Trump and the First Lady for their support and shared a night they will never forget.
Please fill in your e-mail so we can share with you our top stories!