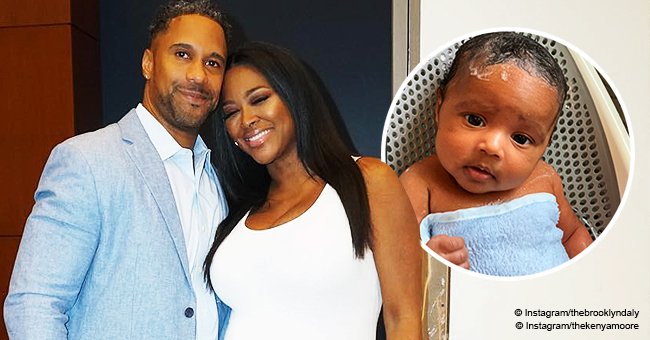 Kenya Moore melts hearts with sweet photo of 3-month-old baby Brooklyn 'trying to take a bath'

Kenya Moore, the TV personality best known for "Real Housewives of Atlanta," took to Instagram to share a photo of her beautiful three-month-old baby Brooklyn covered with soap.
In the image, the baby appeared lying on what seemed to be a baby bathtub while covering her body with a light blue towel. Her hair and chest had shampoo/soap as if she had been caught in the middle of the process.
One of the most striking aspects of the post was the baby's facial expression as she was looking at the person taking the photo, who is very likely to be Kenya, as if she was both surprised and upset about the picture.
PEOPLE'S REACTION
In the caption, Kenya used her daughter's voice to say: "Hey, can I get some privacy, please? Trying to take a bath here," which perfectly matched with the photo. As soon as the proud mother uploaded that photo, her followers took to the comment section to share their thoughts.
"So beautiful!!! She is her Daddy's twin!" admitted one commenter.
"Yes Brooklyn we love you and will give this little princess privacy enjoy your bath," added a second follower.
"I see why your mommy is in love with you [Brooklyn]. You are absolutely beautiful," pointed out another person.
MORE PHOTOS OF BROOKLYN
It is not the first time that Brooklyn has melted the hearts of her mother's followers. Earlier this month, the "RHOA" star shared an image of the girl and her husband, Marc Daly, peacefully sleeping together.
In the post, Marc Daly, who has been Kenya's husband since 2017, appeared wearing a white shirt sleeping with a sort of smile on his face while Brooklyn was wrapped in a white and orange blanket on her father's chest, also asleep.
Even though the picture itself was adorable, what made it even better was Marc, smiling as if he was happy about being with Brooklyn even in his sleep. For the caption, Kenya used her daughter's voice again writing "my daddy is my first love, and people say I look just like him."
PRESENTS FROM HER MOTHER'S FRIENDS
Recently, the proud mother shared a short clip on her Instagram account honoring the girl's three-month birthday. In it, Brooklyn appeared laying on her crib in a white sleep sack while her mother was heard saying, "Hi, cutie!"
In the caption, Kenya and Brooklyn thanked Andy Cohen for getting her a "giant Snoopy," and "aunty" Kandy Burruss for the crib she was in, presents they bought to celebrate the milestone.
Please fill in your e-mail so we can share with you our top stories!