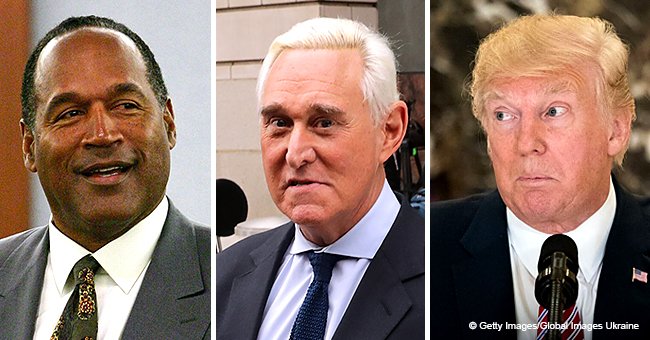 O.J. Simpson sends message to 'buddy' Donald Trump, tells Roger Stone to 'man up' and 'stop crying'
O.J. Simpson believes "fun guy" Trump may be impeached if he continues to associate himself with Roger Stone who he advises to "man up."
Donald Trump supporter O.J. Simpson had a warning for the President when the press caught up with him recently after the State of the Union address. He spoke of Trump's possible impeachment if he continued to associate himself to his former aide, Roger Stone.
ON TRUMP AS PRESIDENT
Simpson was in Las Vegas when a photographer egged him about his thoughts on Trump's recently concluded State of the Union speech. Wary of saying much about Trump's role as president, Simpson instead defined his relationship with the guy and how he knew him.
"Donald is a buddy, he's a fun guy, but I don't know the president. I knew Donald — he was a fun guy — I don't know the president."
Short of saying Trump changed when he became president, Simpson also thinks he is under threat of impeachment. When the photographer asked him if he thought there's a chance of that happening, he replied,
"If he keeps hanging around with … people like that Roger Stone."
WHAT'S WRONG WITH ROGER STONE?
Stone was Trump's former campaign adviser who was recently arrested for allegedly making false statements and tampering with a witness in relation to his involvement in Russia's interference during the 2016 presidential campaign.
Special counsel Robert Mueller led the investigation and indicted Stone for allegedly stealing emails from Wikileaks. These emails were released and were damaging to Trump's opponent, Hilary Clinton. Stone even publicly praised Wikileaks founder Julian Assange after the hacked emails were publicized.
At 6 am on Friday, Stone was arrested in his home in Fort Lauderdale. His arrest boasted of armed agents in bulletproof vests hauling him out of his home in his pajamas.
Stone reportedly cried foul after his arrest claiming he was getting several death threats a week apart from constant harassment in public. He also asked for help to fund the $2 million worth of legal fees he potentially faces.
TRUMP ON STONE'S ARREST
Trump expressed his disappointment at the way Stone's arrest went down. He told the Daily Caller. "It was sad to see it. Very sad."
Stone's arrest was captured on video and POTUS thought it was a little too much.
"When you have 29 people and you have armored vehicles, and you had all of the other — you know, many people know Roger, and Roger is not a person that they would have to worry about from that standpoint."
"To see it happen where it was on camera, on top of it. That was a very, very disappointing scene."
SIMPSON'S ADVICE TO STONE
Meanwhile, Simpson, who himself was arrested in 2001 in his home in Miami due to murder accusations just laughed off Stone's arrest.
"The FBI can be wrong, but to try and compare it to el Chapo and bin Laden? Hey man, bin Laden was carried out in a bag, not walked out in handcuffs,"
"So man up, stop crying," he concluded.
TRUMPS' STATE OF THE UNION ADDRESS
Simpson's interview came in the heels of the State of the Union address, Trump's second since he held office at the White House. CNN Politics deemed his speech, "vintage Trump" with the president delivering conflicting messages and with his "incongruity, unpredictability, exaggeration, and occasional moments of surprising grace."
Among the things he discussed was the southern border which he insists is a threat to American safety. There was no mention of his intent to declare a national emergency in the event that his bid for funding for a wall is rejected by February 15 as he previously promised.
Reports suggest Trump's latest SOTU is one of the most impactful speeches in State of the Union history. For more of how his speech was received, click here.
Please fill in your e-mail so we can share with you our top stories!