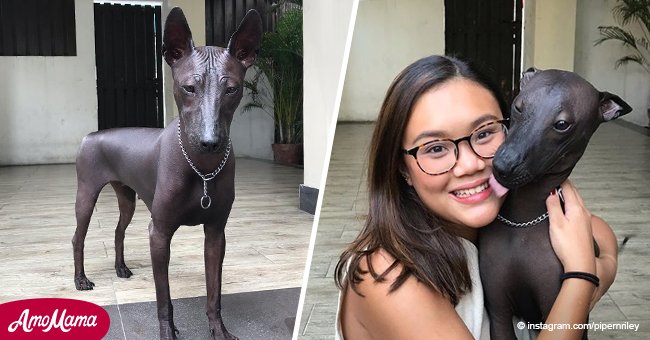 Rare dog looks so shiny that people confuse him with a statue
This cute little female dog went viral on social media after several pictures of her were posted and everyone thought it was a statue.
The dog's rare breed makes her look quite different from other dogs because she has no hair and is extremely shiny. Her proud owner decided to name her Piper and now, the dog became famous after her picture went viral.
22-year-old Sandra Pineda from Quezon City in Manila, Philippines, brought little Piper into her new home when the dog was about two months old in March, last year.
Months before the cute dog arrived, Sandra's father had seen this particular breed and was in love with its rarity and decided to find one breeder to buy one of this interesting dogs and make it part of the family.
The man looked everywhere for a breeder who could sell them a xoloitzcuintle, which are extremely rare on the island of the Eastern Pacific.
The xoloitzcuintle is also known as a Mexican hairless dog, and is common in his native country but incredibly rare throughout the world.
It was tremendously difficult for the family to find Piper but it was worth it. When they found a reliable breeder, the family did not hesitate to bring one of these hairless dogs to the Philippines.
According to National Geographic this breed of dog has existed for more than 3,500 years and they played an important role in the life of the Mayans and Aztecs.
EVERYONE TURNED TO SEE IT
When Sandra uploaded a photo of her little pet she was surprised to see that the photo had more than 10,000 likes and many more comments in less than an hour.
This is because Piper's breed is characterized by having extremely thin or totally absent hair. These dogs also have a condition known as oligodontics, which causes the dog to lose at least six teeth throughout its life.
"It was really fun to see all those comments from people who think Piper was a statue," says Sandra when she sees the commotion over the photos. "Everyone was really confused and they ask me if she is real or not," she adds.
At first, Sandra thought it was a joke because she is used to her appearance but then realized that the confusion was real because her relatives also doubted if it was a real dog.
She says that although people think that Piper is an intimidating dog because of her strange appearance, the reality is that she is very sweet and loves the mimes.
Her family loves how easy it is to take care of the little one because her skin should only be hydrated. "We use a mild shampoo for dogs, and after the baths, she is covered with virgin coconut oil to keep her skin hydrated and shiny."
LOVED PETS
Another puppy that melted the heart of everyone who saw him was this one who travels to accompany its owner.
The puppy was captured on video while he was inside a plane in China, sitting quietly next to his owner in his own chair. The Alaskan Malamute was traveling in service for his disabled companion who is an emotionally vulnerable air traveler.
Bruce accompanied his owner on a four-hour trip from Shenyang to Shenzhen. The spokesman of the airline informed that the dog was qualified as an animal of emotional support and that it had been approved by professionals.
Please fill in your e-mail so we can share with you our top stories!