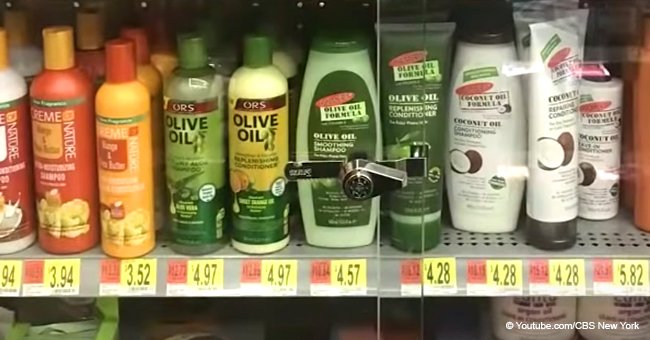 Walmart store in New York sparks outrage after locking Black hair care products in a case

A Walmart store in Long Island, New York is facing heavy criticism after they locked all African-American hair products in a glass case.
the Walmart outlet in Riverhead ended up revoking its decision to lock African-American hair products in a glass case after customers were outraged by the ordeal.
A shopper named Patricia Fulford was looking for a particular hair product before finding it locked in a glass case opened only with a key held by the management. To her, that was full on discrimination, as other beauty and hair products were freely displayed in large racks.
After having to wait ten whole minutes to have the case unlocked, she confronted the store's manager as to why the products were locked in a case.
"'I'm waiting for the key for shampoo and conditioner.' I said, 'But let me ask you, why are the black hair products locked up and not the white hair products?'"
The manager was not quite sure what to say, so an associate went on to say that people have been stealing these products.
While Fulford understands why Walmart locks expensive items in a glass case to avoid theft, she doesn't understand why they locked hair products that ranged from $1 to $25. In the end, she exerted her right by saying "It's just not right that I have to wait for a key to get shampoo and conditioner and my fellow shopper does not."
The incident has reached the Riverhead Town Council, particularly Catherine Kent, who is part of the Anti-Bias Task Force. When she set up a meeting with the management, she ended up disappointed by what she heard and called their message "hurtful."
"They said this was based on data of theft in the store and we asked to see the data, and at that point, she referred us to call 1-800-Walmart. As the number one retailer, they have a social responsibility to do the right thing and that means become more inclusive and pay attention to the needs of the community they are serving."
Although the Walmart branch has decided to put the items back on the shelf, they are still being heavily monitored by the city council to ensure that everyone gets the same shopping experience when they enter the retail giant.
Please fill in your e-mail so we can share with you our top stories!