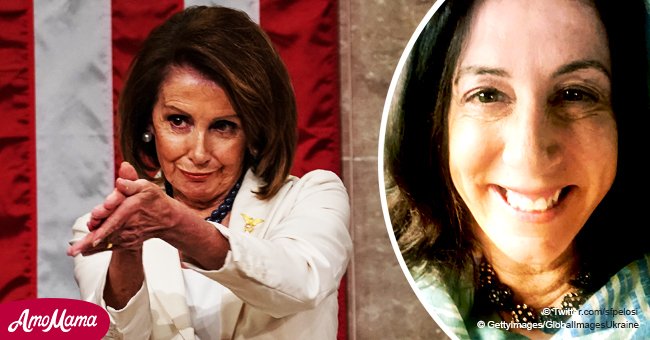 Nancy Pelosi's daughter said her mother's weird clap at SOTU took her way back to her teen years

Nancy Pelosi's daughter has admitted that her mother's infamous clap at the State of the Union made her reminiscent of her teenage years.
Christine Pelosi tweeted a picture of her mother with a sarcastic smile on her face, clapping her hands at Donald Trump at the State of the Union address on Tuesday night.
Christine commented on the picture, explaining how familiar she is with that clap and what it means.
"She knows. And she knows that you know. And frankly, she's disappointed that you thought this would work. But here is a clap." - Christine
Most likely, she got the weird look, and clap a lot growing up as a teenager. To buttress Christine's point, a reporter asked a rhetorical question;
"which child has not experienced that smirk from their mother at one point in time."
Christine is one of the five children of Nancy. The young Pelosi followed the State of the Union program and tweeted all through the address.
The sarcastic smirk which went viral happened during the State of the Union speech and immediately, people especially critics of the president, jumped to the conclusion that the speaker, Pelosi was trolling him.
To viewers watching the program, it was a very brief moment, something that would usually have gone unnoticed but New York Times photographer; Doug Mills captured the moment where Donald Trump turned around, looking to Pelosi as she clapped!
The sarcasm and literal clap back were as a result of Trump urging for unity despite his actions suggesting the opposite. The President said in his address:
"We must reject the politics of revenge, resistance, and retribution, and embrace the boundless potential of cooperation, compromise, and the common good."
Nancy has always opposed most of Trump's policies from the onset of his tenure. The irony has generated nationwide memes, from hilarious trolls to photoshopped pictures. Usually, Trump is the focus of attention, but this time around, the speaker seems to be the center of attraction.
A tweet from Mark Gengloff said the whole of Cleveland could be powered for weeks with the sarcasm energy.
Please fill in your e-mail so we can share with you our top stories!