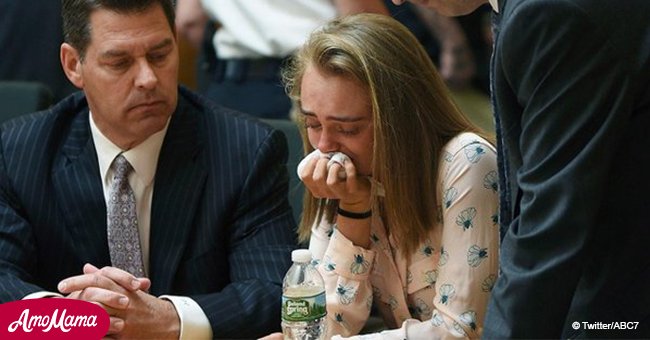 Young woman who encouraged 18-year-old boyfriend to commit suicide faces a 15-month sentence

A Supreme Judicial Court in Massachusetts has upheld a court ruling on the conviction of a woman named Michelle Carter over the death of her boyfriend, Conrad Roy; this was after she allegedly encouraged the young man to take his life.
According to the judge who made the ruling;
"The evidence against the defendant proved that, by her wanton or reckless conduct, she caused the victim's death by suicide."
"Her conviction of involuntary manslaughter as a youthful offender is not legally or constitutionally infirm. The judgment is therefore affirmed." Judge
Michelle was accused of encouraging Roy, her boyfriend to commit suicide in a series of text messages sent to him. The young man later took his life in 2014, and the court believes that there's enough evidence to convict Carter for involuntary manslaughter.
Even though a lower court had already sent her to a jail term of 15 months, Carter had remained free while she tried to appeal her case. But the appeal court has now also ruled against her defense, confirming the previously given sentence.
The court had first said that Michelle was responsible for the death of Roy because she was the one who told him to get into a truck filled with toxic gas. But her lawyers were adamant that she didn't force Roy to make the decision, and the evidence against her was substantial at best.
Roy, barely a month and a half out of a psychiatric hospital had reportedly been on the phone with Carter while he was in his Ford truck. According to evidence obtained by the court, Carter had encouraged Roy to get back in the vehicle while being filled up with carbon monoxide. In a statement received from Michelle herself, the court maintained its position that she had confessed to encouraging Roy to kill himself.
"As the defendant herself explained, and we repeat due to its importance, `[The victim's] death is my fault like honestly, I could have stopped him I was on the phone with him, and he got out of the [truck] because it was working and he got scared and I f--king told him to get back in,'" - the court noted in its decision.
While Carter's lawyers sufficiently stated their defense, the prosecutors maintained that she could have stopped the suicide, but instead went ahead to encourage him. Because of this, the Supreme Court upheld the decision of the lower court.
Please fill in your e-mail so we can share with you our top stories!