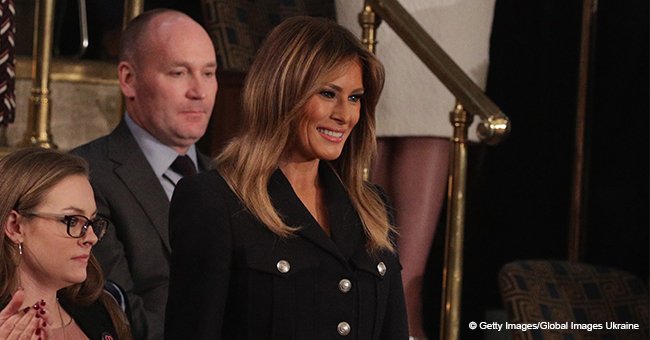 Melania Trump is under fire for wearing just one glove during the president's SOTU speech

With various points of The State of the Union address on Tuesday under discussion, netizens fired up social media about Melania Trump's wearing of one glove.
When the initially delayed address finally took place, it turned out to be an eventful evening. Democratic congresswomen showed up wearing all white in solidarity to the suffrage movement, and made history by numbers alone, as a record number of women got elected to Congress in 2018. When Trump touched on this fact during his speech, the women all got up and cheered.
Trump's remarks regarding immigrants also came under fire when he claimed that immigrants were responsible for the murder of many Americans. Nancy Pelosi's condescending sideways clap already became a meme, and Trump Jr. got owned when he questioned the patriotism of the women that partook in the suffrage movement.
But then attention turned to Melania, she chose not to wear white for the occasion but donned a dark military style $2,390 Burberry coat and a pair of black leather gloves.
However, it's her wearing of one glove that got social media buzzing. Upon Melania's arrival, she took off her right glove to shake hands with some of the guests and left the other glove on for most of the evening. It didn't take long before Twitter users asked:
Other people saw a clear Michael Jackson reference in the first lady's single glove, as the following Twitter user remarked:
Another pointed out that Melania's use of gloves has to do with etiquette, and tweeted:
But netizens forgot that it's not the first time Melania had worn her glove in that way. Back in November 2018, Melania joined President Trump to watch Brett Kavanaugh officially take his seat as the 114th justice on the Supreme Court.
Although Melania got pictured with both gloves on during a photo op with the Supreme Court justices, she only wore one on her way to, and during the first portion of the ceremony.
Herve Pierre, Melania's stylist, pointed out that the First Lady isn't secretly sending political messages through her choice of wardrobe and added:
"As long as I find the right outfit, the designer is almost irrelevant. The designer, well, is Burberry, but it could have been anybody else. It has nothing to do with England or Brexit. If I would have to think of all these things when I look at dresses and outfits, I would lose my mind."
According to Pierre, Melania's leather gloves have regal intent and meant to be "very First Lady, and very appropriate," and shared his thoughts on social media comments:
"Afterward, social media will go on about Brexit or whatever. They have to do their own version of this. On my side, believe me, I don't think of it. Because I don't have time to do that."
Seated next to Melania during her husband's State of the Union address, was the president's special guest for the evening.10-year-old Grace Eline sat smiling next to the First Lady as her story of courage, determination, and selflessness inspired the nation. And she stole the show.
Please fill in your e-mail so we can share with you our top stories!