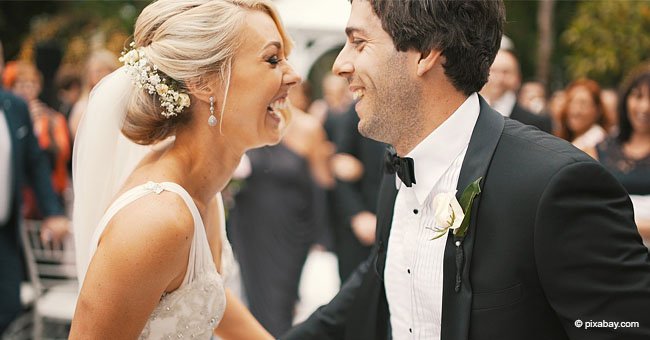 Bride amazed when 3-year-old girl daughter unexpectedly gives middle finger in a wedding photo

A bride was astounded when her 3-year-old unexpectedly made a rude gesture during the traditional wedding photoshoot.
Australian bride Hannah Early's big day didn't turn out exactly as she'd imagined thanks to her three-year-old daughter, who decided to add a little spice to the usually drawn-out and tedious wedding photo-shoot.
The thirty-three-year-old mother of four got the fright of her life when she saw the wedding photos, and what her daughter Maddison had done.
"We decided to go off to the side to have some family photos taken. All of a sudden she just popped it up to show everyone. There were lots of people standing around watching her, so I think she just thought why not do it."
WATCH THE BIRDIE!
Guests at the Earley wedding were hard put to stifle their laughter when the bride's youngest child happily flipped the birdie at the photographer.
The toddler can be seen in the group photograph posing with the happy couple in her adorable flower-girl gown - middle finger extended for all the world to see.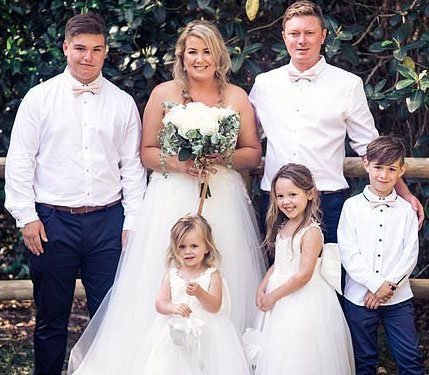 The Earleys and their 4 children/ Source. Twitter/@pbenro
Seeing herself with a large audience, Maddison put forward her best foot - in this case, her middle finger.
OUTRAGEOUS TOT CRACKS UP SIBLINGS
As soon as Maddison lifted her middle finger, her siblings Ashton, 15, Tyler, 8, and Halle,5, cracked up laughing - and so did the bride and groom. Hannah confessed it was impossible to keep a straight face at Maddison's antics.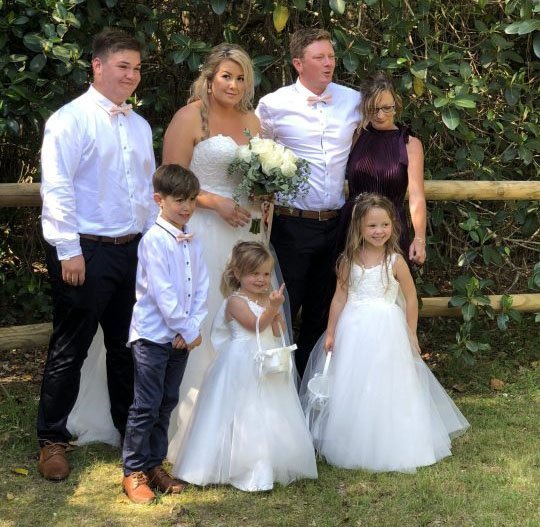 The notorious "birdie"/ Source. Twitter/@pbenro
MONKEY SEE, MONKEY DO
The bride from Old Bar, New South Wales explained that her daughter had picked up the gesture a few days earlier from after seeing an adult family friend use the gesture casually.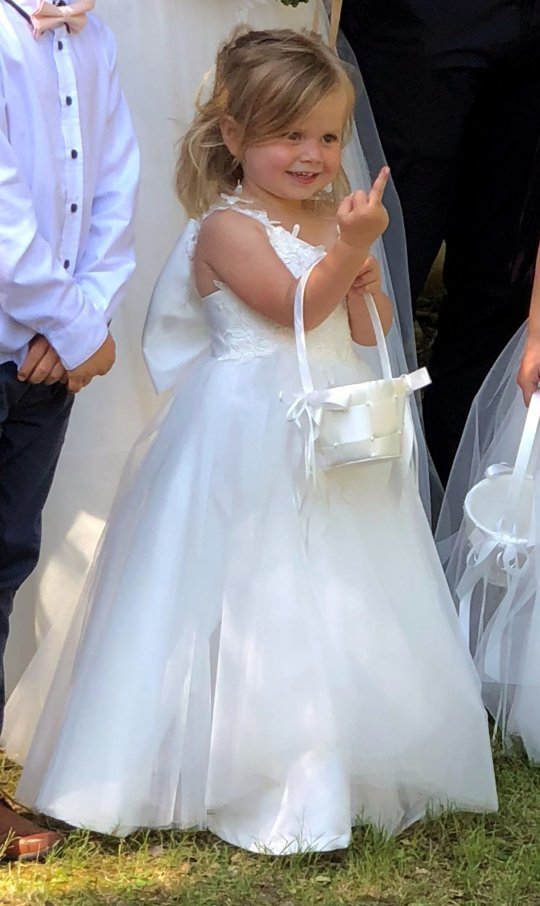 Maddison Earley / Source. Twitter/@pbenro
A MEMORABLE MOMENT ON AN UNFORGETTABLE DAY
Of course, Maddison had no idea what such a gesture meant, only that it made people laugh when she did it.
Seeing herself with a large audience, Maddison put forward her best foot - in this case, her middle finger.
"She did it for nearly a month straight. It was funny but I'm glad she's stopped doing it now."
Hannah confessed that Maddison continued using the gesture for a while after the wedding - including at her sister's graduation. Maddison added a dash of humor to a memorable day, and provided her parents with an unforgettable memento of their big day,
A BRIDE PROPOSES A UNIQUE DRESS CODE FOR HER GUESTS
Women spend years dreaming about the glorious gown they will wear to their wedding, and months searching for the perfect dress - which they will wear only once.
When actress Audrey Moore and writer Jesse Lumen started planning their nuptials, she realized that she could offer her bridesmaids a unique opportunity to revisit their own wedding day.
"We thought it was sad that most women only get to wear their wedding dress once, so we invited all the women coming to our non-traditional wedding to wear their old wedding dresses again!"
Moore's photo with her 10 glowing bridesmaids went viral on social media, and it's easy to see why.
The bride may be surrounded by blushing beauties in bridal white, but she outshines them all in a delicate ice-blue off-the-shoulder gown.
In a related story, a groom got the surprise of his life on his wedding day when, after turning around in what should have been the first time he saw his bride, he found his bearded best-friend in her place.
Please fill in your e-mail so we can share with you our top stories!