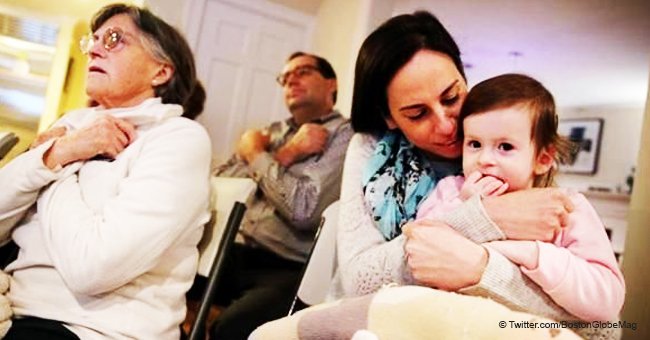 Whole neighborhood gathers to learn sign language to give a deaf infant a great start in life
A Massachusetts neighborhood has recently come together to learn sign language in order to make a special resident feel welcome.
Samantha Savitz, a 2-year-old girl from Newton, was born deaf but her neighbors wanted to her to feel a part of the neighborhood despite her disability.
It has been reported that over 20 people started taking American Sign Language classes just so they could communicate with Samantha.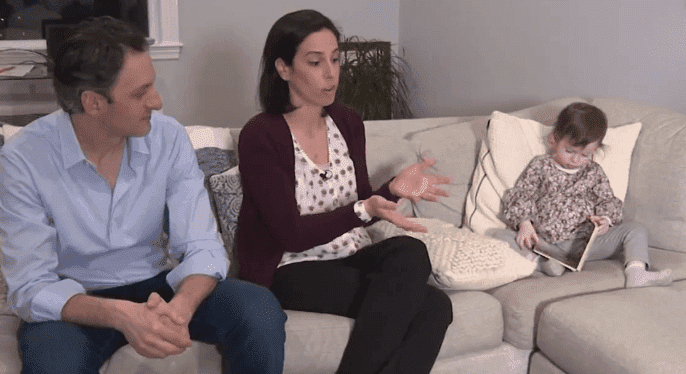 Glenda and Raphael Savitz with their daughter Samantha | Photo: ABC 7
Her parents, Glenda and Raphael Savitz, confessed that their daughter was the first hearing impaired person they had ever known.
But that didn't stop them from giving Samantha all their love and affection. Neighbors quickly caught on with the little girl's disability by seeing Glenda and Raphael communicating with her through sign language.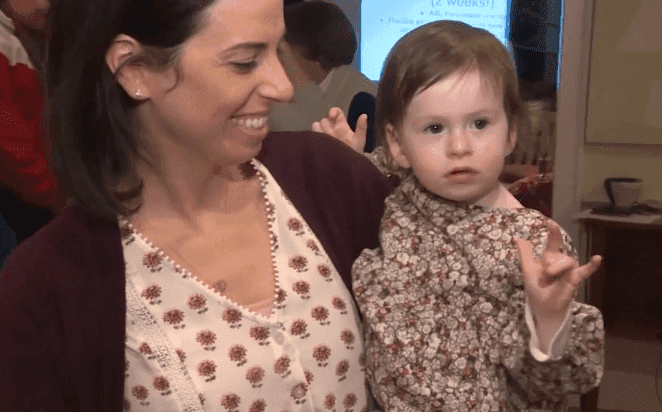 Glenda holding Samantha in her arms | Photo: ABC 7
Being such a nice neighborhood, where everyone looks after each other and brings casserole whenever one is sick, Newton residents wanted to be able to interact with their youngest member.
So they took upon themselves to hire an American Sign Language teacher. According to Lucia Marshall, a neighbor, they expected 10 to 12 people to attend the class, but the community's response was amazing.
Glenda and Raphael Savitz, confessed that their daughter was the first hearing impaired person they had ever known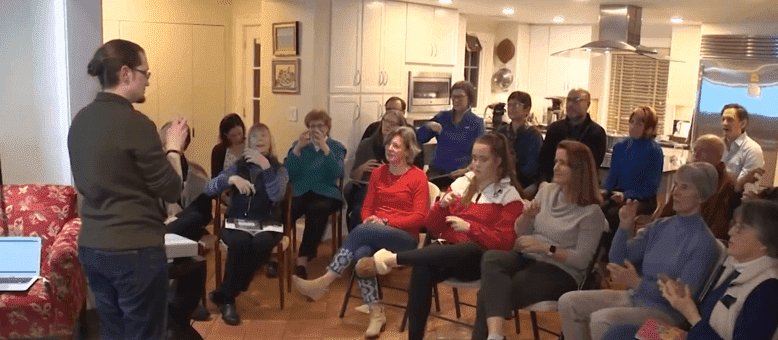 The Newton neighborhood during an American Sign Language Class | Photo: ABC 7
More than 20 people showed up to the first class and have been reuniting ever since.
The sweet gesture touched Glenda, who was surprised to see so many people putting in the effort to interact and bond with her daughter.
But while the neighbors started doing this for Samantha, Marshall explained that the 2-year-old was the one doing something for them since she gave them a reason to come together.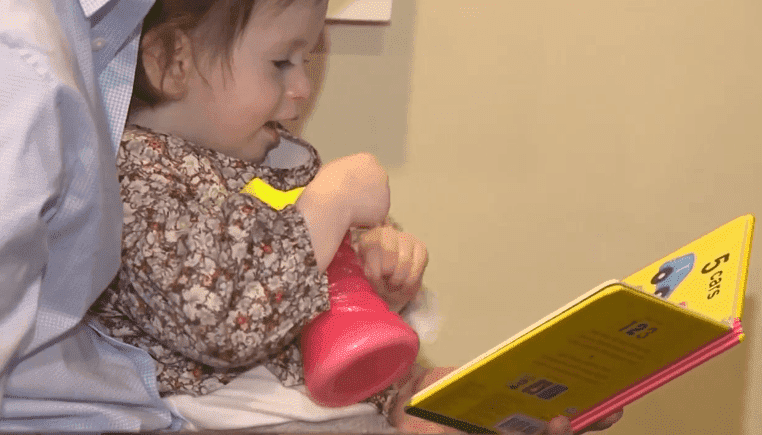 Samantha on her father's lap enjoying a children's book | Photo: ABC 7
KINDNESS CAN MAKE A BIG DIFFERENCE
The power of a community shouldn't be underestimated, and just like Samantha, another 2-year-old was able to bring everyone together for a good cause.
Brody Allen, a little boy from Ohio, was diagnosed with a rare form of brain cancer and wouldn't be able to make til Christmas. So, even though it was only September, neighbors fully decorated their houses to celebrate the holidays.
Allen didn't realize what was going on but loved seeing the Christmas decorations up, and was often spotted sitting in a red Radio Flyer wagon being pulled around by his siblings as he enjoyed the scenery.
It was a very special moment for young Allen, who had the chance to celebrate his last Christmas thanks to the kindness of strangers, and, of course, his loved ones.
Please fill in your e-mail so we can share with you our top stories!