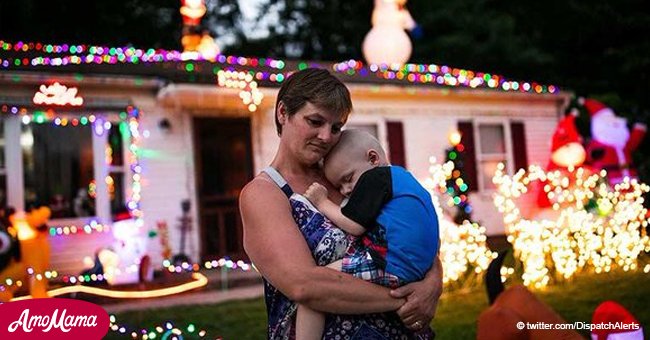 2-year-old boy dying of brain cancer celebrates an early 'Christmas' with neighbors

Neighbors pretend that it is Christmas and fully decorate their homes inside and out for 2-year-old with a very rare and deadly form of brain cancer.
Even though it is September, little Brody Allen is enjoying Christmas, not aware that it isn't December just yet and that he won't be able to make it till then.
As reported by The New York Times, Brody's family is doing everything possible to make sure that the last Christmas he spends with them will be as amazing as possible.
According to Brody's sister, McKenzie, her brother has no idea of what is going on and that he is just enjoying it. 'He just woke up one day and the Christmas tree was out.' Follow us on our Twitter account @amomamam_usa to learn more.
Brody can often be found sitting in a red Radio Flyer wagon, with a blanket over his shoulders and a hoodie over his head as his siblings pull him around so he can enjoy the fully decorated neighborhood.
74-year-old Barbara Elliot, a neighbor, revealed how she once offered Brody's mother, Shilo, some pull-ups and learned that they were not going to bother potty training Brody because he had cancer. That broke her heart.
THE DIAGNOSIS
Brody was diagnosed with cancer back in May when he complained of dizziness. His parents later learned that he had four embryonal tumors with multilayered rosettes.
"One on his lower spine, one intertwined with his brain stem and two behind his pons. It is extremely rare," she said. It doesn't respond to treatment very well."
McKenzie Allen, The New York Times, September 15, 2018
NO TREATMENT POSSIBLE
The Cincinnati Children's Hospital Medical Center has helped cover Brody's medical expenses and tried everything in their power to help him, even their most aggressive chemotherapy.
Unfortunately, Brody's tumors ended up growing by 30 percent and he even developed a fifth one in his brain. Now, knowing that there is nothing they can do to save the 2-year-old, the Allens are hoping to make his last days the happiest possible.
A SECOND CHANCE FOR A SPECIAL GIRL
It is never easy to see a child suffering, especially with a terrible illness such as cancer, but fortunately, not all cases end badly. Delaney Unger, a 13-year-old with bone cancer, overcame her disease, but it came with a price.
Her knee had to be amputated but doctors were able to give her a second chance by performing a unique operation, turning her ankle 180 degrees in order to function as a knee. This allowed Delaney to follow her passion for dancing since she could easily attach a prosthetic leg to her new "knee."
Please fill in your e-mail so we can share with you our top stories!