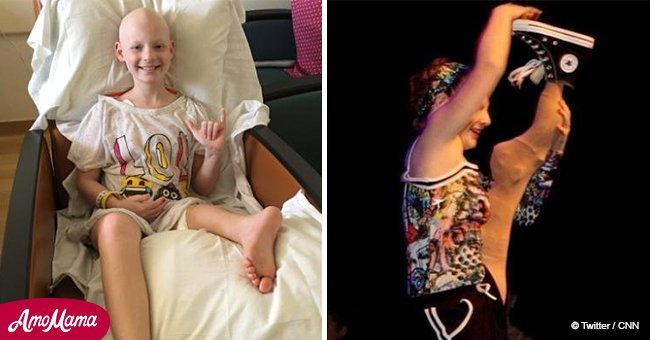 Surgery helps save the life of a teen with cancer and enables her to dance again
12-year-old Delaney Unger, who was diagnosed with bone cancer about two years ago has not only survived but also keep up with her passion for dancing after doctors created a new knee joint for her using her reattached backward angle.
According to a report from CNN, Delaney has stayed cancer-free for over a year after initially complaining about leg pain which was assumed to be a dance-related injury. Following the diagnosis of bone cancer, she has been cancer-free for over a year due to radical surgery.
The young girl also underwent chemotherapy for the treatment of osteosarcoma before and after a critical 13-hour surgery called Van Ness rotationplasty, which involves rotating the ankle 180 degrees to create a working knee joint for maximum mobility.
The recovery following this surgery was difficult, explained Melissa Unger, Delaney's mother. She told that Delaney had to learn to flex and other similar things in the opposite way. "You really have to rewire your brain," she told CNN.

Source: YouTube/ Eyewitness News ABC7NY
Follow us on Twitter to learn more.
Delaney goal had been not just to be able to move normally but to be able to resume dancing and to try out for the school kickline team.
"I wanted to be normal again," she told the source. "I wanted to make sure I could do most of the stuff that all my friends were doing and I could keep up with them."

Source: YouTube/ Eyewitness News ABC7NY
The doctors who performed the 13-hour-long surgery on her are amazed by Delaney's spirit. They have admitted that her progress and recovery has surprised them. They even choked up when they saw videos of Delaney in recovery and later dancing.

Source: YouTube/ Eyewitness News ABC7NY
Melissa explained that they are now all focused on providing her the best chance of being able to do as many things as she would want to without any limitations.
Doctors have stated that about a third of osteosarcoma patients are expected to relapse, so Delaney will need monitoring for the rest of her life.
Surviving cancer and showing the courage to fight against it throughout one's life is an inspiring feat in itself. Back in July, a similarly inspiring story of 3-year-old Skye Savren-McCormick came out.
The little girl not only fought the cancer of bone after receiving bone marrow donation from a 26-year-old woman, but she also attended her donor's wedding as her flower girl.
Please fill in your e-mail so we can share with you our top stories!