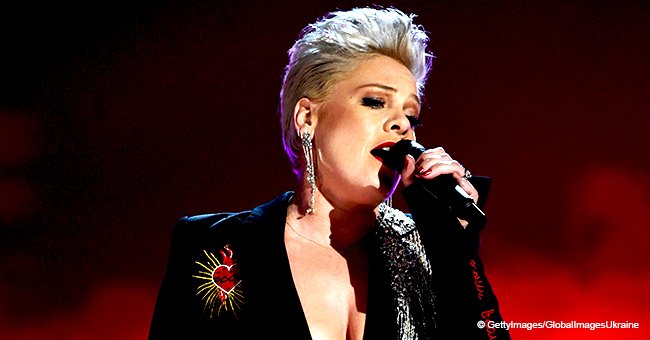 P!nk amazes audience with a powerful rendition of Dolly Parton's 1973 hit 'Jolene'
On Friday night, Pink kicked off a special event with a surprising rendition of Dolly Parton's iconic hit, "Jolene."
The evening of February 8 saw many performers come together to honor Dolly Parton at the MusiCares Person of the Year gala in Los Angeles, California.
The first performer for the evening took to the stage and gave the audience goosebumps with her rendition of a Dolly Parton classic, "Jolene."
Dressed in a black one-piece jumpsuit with a cropped black detailed jacket, Pink performed the 1983 Dolly Parton classic accompanied by a guitar only. With Pink's vocals on point, she started the evening in style as fans took a trip down memory lane.
Pink later posted a black and white picture of her performance to Instagram where she showed her cropped jacket from behind with Dolly's face on it, and a simple caption, "Dolly."
Other star-studded performances for the evening included Katy Perry and Kacey Musgraves who sang Dolly's 1977 song, "Here You Come Again," while Miley Cyrus and Shawn Mendes performed the song sang by Dolly and Kenny Roger's back in 1983, "Islands in the Stream."
The evening concluded with a speech from Dolly Parton where she expressed her gratitude towards all the singers who honored her as she said while smiling broadly:
"Watching them is sort of like watching porn. You're not actually involved, but you still get off on it. So I really got off on this show tonight!"
Before the evening kicked off, Pink spoke with Justin Sylvester from E! News on the red carpet. With Valentine's Day just around the corner, it turned out her gift was not much of a surprise, as she said:
"We went to a store the other day, and I was like, 'That's a nice ring, babe.' He was like, 'I'll get it for you for Valentine's Day.' I was like, 'Wow, you really just wanna be done, don't you?' So I took the ring."
The star added that with her tour just around the corner, they made no plans for Valentine's Day, "We're packing for a tour."
When the 39-year-old singer's tour originally started in March 2018, Pink delighted fans with one of her famous acrobatic performances during her concert in Vancouver.
All though Pink's sequinned, cream-colored metallic leotard looked ill-fitting, she performed the acrobatic routine with a male acrobat. While seemingly struggling with balance, she still put up a sensual and intricate trapeze show.
With Pink's world tour, "Beautiful Trauma" resuming on March 1, in Fort Lauderdale, Florida, fans everywhere are looking forward to seeing her in action.
Please fill in your e-mail so we can share with you our top stories!