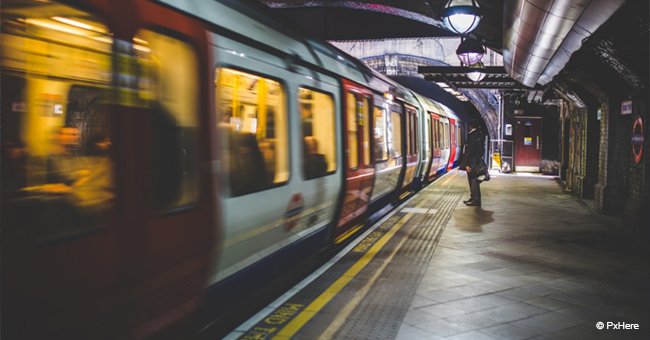 Viral video shows dad leaving his baby on a train to smoke a cigarette, then the train departs

A father in Cleveland, Ohio, frantically chased a moving train after he left his baby onboard while he stepped out to smoke a cigarette.
After stepping on-board a train carrying his child, a father in Cleveland, Ohio, stepped back out to smoke a cigarette. Thinking he had time to finish the cigarette while on the platform, he left his baby on the seat inside the train. However, the doors closed soon after he stepped outside and the train took off, leaving the dad chasing after the train.
Worried sick about his child, he frantically ran after the moving train, and the lone passenger onboard noticed what was going on. The concerned passenger noticed the baby left alone, and the train operator was quickly alerted. After the train was stopped, the dad and child were reunited.
Now, media outlets were able to obtain the footage from the station's camera, where the man was seen getting off the Cleveland train, before the doors close soon after.
LEAVING YOUR CHILD BEHIND
It's quite common that incidents of parents leaving or forgetting their children become viral on social media, no matter how dangerous these incidents really are. Last October, a 17-month-old baby boy was left unattended in a shopping cart at a local Target parking lot.
After noticing the child sitting alone on the cart outside, a concerned citizen called the police and stayed beside the child the entire time while waiting for the officers to arrive at the store.
According to a witness, the child was with two adult females and two adult males before they left him unattended. After looking at surveillance footage, it turns out the adults left in a Toyota SUV.
It was only a couple of hours later that Target received a call from a man who said they "accidentally" left the little boy.
Upon investigation, the mother of the child said that she believed one of her friends placed her son in the rear-facing car seat. It was only when she got to Plymouth that she realized her son was not in the seat. The entire time that they were in the car, she thought that he was sleeping.
Perdue faced charges of abandonment and endangerment of a child despite claiming it was an accident.
"Whether it was an accident or not, she still endangered the child."
With numerous instances of children being left behind of their parents, parents are asked to be more vigilant and to double check their cars and surroundings before leaving to ensure they do not leave their kids unattended which can cause severe harm and even death.
Please fill in your e-mail so we can share with you our top stories!